In the 1970s, Swedish pop group Abba replaced the BEATLES as the world's most popular entertainers. They had extraordinary chart success, and their deceptively simple, slick (some would say bland) music, conceals their quite exceptional songwriting and production skills.
Formed in 1972, Abba included Benny Andersson (b. December 1946), keyboards and synthesizer; Bjorn Ulvaeus (b. April 1945), guitar; Agnetha Faltskog (b. April 1950), vocals; and Frida-a single stage name-(b. Anni-Frid Lyngstad, November 1945), vocals. "Abba" was an acronym formed from the first-name initial of each member.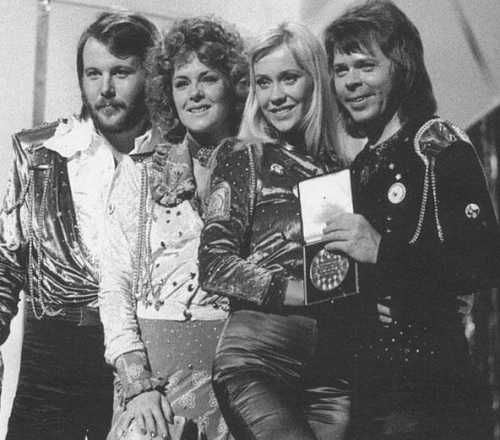 In 1974, Abb a made an instant international impact with "Waterloo," Sweden's winning entry in the Eurovision song contest. The song was a No. 1 hit in the U.K. singles charts and, surprisingly for a Eurovision entry, also reached No. 6 in the U.S. Thus began the band's brilliant run through the world's pop charts with songs such as "S.O.S.," "Money, Money, Money," "Super Trooper," and "Dancing Queen." In Britain, the group enjoyed spectacular success, with eight successive No. 1 albums from 1976 to 1982. Success in America was far less dramatic-in addition to "Waterloo" only "Dancing Queen" reached the Top 10. Nevertheless, by 1979 Abba had sold more records than any other group, including the Beatles, worldwide.
The common ingredients for the perfect Abba song were an infectious, sometimes haunting, melody, immaculate counter-harmonies, and, above all, supreme attention to production details. Their nationality was also part of Abba's appeal. A British or American act may have been too self-conscious to mouth some of their unsophisticated, even mawkish, lyrics. Their background in Swedish folk music ensured that Abba never forgot the importance of melody at a time when many rock bands were exploring complex electronic effects and obscure lyrics.
The group was at its most creative when dealing in everyday gloom. Sad and graceful songs such as "Knowing Me, Knowing You," and "The Winner Takes It All " saw them create hit singles out of the desolation of failed relationships (Bjorn and Agnetha, and Benny and Frida were married couples who divorced during their days as Abba). Abba disbanded in 1982 and Agnetha and Frida attempted solo careers, but failed. Bjorn and Benny's songwriting talents proved more enduring, notably in their collaboration with lyricist T im Rice o n the musical Chess (1986). The group's afterlife, however, began in the early 1990s when disco glamour was in vogue, and the Abba Gold album (1992) sold millions of copies.