(b. Oct. 29, 1938, Monrovia, Liberia)
The Liberian politician and economist Ellen Johnson-Sirleaf was president of Liberia from 2006. She was the first woman to be elected head of state of an African country.
Of mixed Gola and German heritage, Ellen Johnson was the daughter of the first indigenous Liberian to sit in the national legislature. At age 17 she married James Sirleaf (they were later divorced). In 1961 Johnson-Sirleaf went to the United States to study economics and business administration. After obtaining a master's degree (1971) in public administration from Harvard University, she entered government service in Liberia.
She served as assistant minister of finance (1972–73) under President William Tolbert and as finance minister (1980–85) in Samuel K. Doe's military dictatorship. Johnson-Sirleaf became known for her personal financial integrity and clashed with both heads of state.
During Doe's regime she was imprisoned twice and narrowly avoided execution. In the 1985 national election she campaigned for a seat in the Senate and openly criticized the military government, which led to her arrest and a 10-year prison sentence. She was released after a short time and allowed to leave the country. During 12 years of exile in Kenya and the United States, she became an influential economist for the World Bank, Citibank, and other international financial institutions. From 1992 to 1997 she was the director of the Regional Bureau for Africa of the United Nations Development Programme.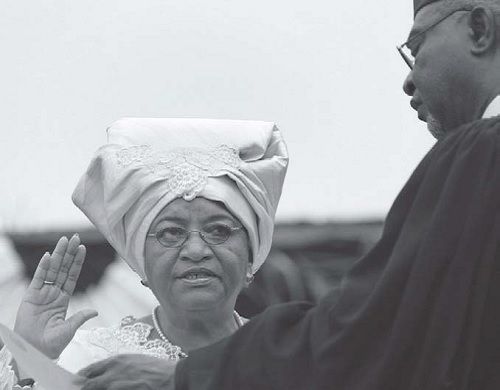 Johnson-Sirleaf ran for president in the 1997 election, representing the Unity Party. She finished second to Charles Taylor and was forced back into exile when his government charged her with treason. By 1999 Liberia had collapsed into civil war. After Taylor went into exile in 2003, Johnson-Sirleaf returned to Liberia to chair the Commission on Good Governance, which oversaw preparations for democratic elections.
In 2005 she again ran for president, vowing to end civil strife and corruption, establish unity, and rebuild the country's devastated infrastructure. Known as the "Iron Lady," she placed second in the fi rst round of voting, and on Nov. 8, 2005, she won the runoff election, defeating football (soccer) legend George Weah . Johnson-Sirleaf was sworn in as president of Liberia on Jan. 16, 2006.
With more than 15,000 United Nations peacekeepers in the country and unemployment running at 80 percent, Johnson-Sirleaf faced serious challenges. She immediately sought debt amelioration and aid from the international community. In addition, she established a Truth and Reconciliation Committee to probe corruption and heal ethnic tensions.