The Italian count Mario Ricotti turned out to be quite a visionary. His idea that popular cars of the future would be highly aerodynamic "one box" people carriers was extraordinarily prescient.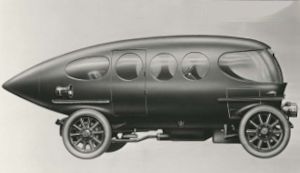 YEAR REVEALED 1914
PLACE OF ORIGIN Milan, Italy
HISTORICAL STATUS prototype
ENGINE four-cylinder, 371ci (6,082cc)
MAXIMUM POWER 70bhp
LAYOUT front-mounted engine driving the rear wheels
BODYWORK single-door, five-seater saloon
TOP SPEED 86mph (138kph)
NUMBER BUILT one
When Count Ricotti commissioned this stunning machine from the Italian coachbuilder Carrozzeria Castagna, he was said to be in awe of the fashionable airships of that period. The teardrop lines of the one-off car are softly profiled, with the wind-cheating front section completely enclosing the engine, and the tail coming to a tapered end of masterful proportion.
The bodywork was made from riveted-aluminum paneling, while the elongated windshield section at the front consisted of three separate pieces of curved glass. The limits of contemporary technology, however, were clearly visible. The substantial side-members and primitive suspension of the 40-60hp are obvious. With the engine and radiator inside the body's contours, the driver had to sit over three feet behind the windshield, with visibility impeded by the side windows. Ricotti may have been eccentric, but he wasn't stupid. When he grew tired of his new toy, he removed the body and had an open tourer built on the chassis. The body itself survives in Alfa Romeo's Museo Storico.