The Continental R formalized the revival of the Bentley marque, which had degenerated into nothing more than a Rolls-Royce with a different radiator grille, in the years since Rolls-Royce's 1931 takeover of the company.

The first Bentley to carry a distinctive body of its own since the 1950s, the R and its sister models combined the muscular performance of a turbocharged V8 engine with an exquisitely trimmed coupé body. The result was one of the very finest grand tourers money could buy.

At the beginning of the 1980s, Bentley was on the brink of closure. With no models specific to the marque, there was no reason to buy a Bentley other than sentimentalism or a liking for the radiator design. Sales represented about 5 percent of the parent company's total output of Rolls-Royces and Bentleys.
Serious thought was given to discontinuing the marque. Instead, a turbocharged version of the Mulsanne sedan was introduced in 1982, and developed over subsequent years into a magnificent luxury sedan with searing performance. It was then decided to produce a more sporting coupé badged as a Bentley to replace Rolls-Royce's two-door Camargue.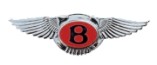 A racing pedigree
Walter Owen Bentley made his name as an aircraft-engine designer. His first car was announced in 1919, and the company's sports models found fame by winning the Le Mans 24-hour race five times. Since 1998 Bentley has been owned by Volkswagen.
The Bentley Continental R emerged in 1991, based on the Mulsanne-derived Turbo R sedan-whose running gear could be traced back to that of the 1965 Rolls-Royce Silver Shadow.
A more powerful S model was available in 1994-95, and this led to the high-performance Continental T, which had a 4-in (10-cm) shorter body and uprated brakes and suspension. Other derivatives included a convertible, the Azure.
| | |
| --- | --- |
| Model | Bentley Continental R, 1991–2003 |
| Assembly | Crewe, UK |
| Production | 1,854 all types |
| Construction | Steel monocoque |
| Engine | 6,750 cc, pushrod V8 |
| Power output | 385–420 bhp at 4,000 rpm |
| Transmission | Four-speed automatic |
| Suspension | Independent by coil; self-leveling |
| Brakes | Four-wheel discs |
| Maximum speed | 150 mph (241 km/h) |
SPECIFICATIONS Bentley Continental R, 1991–2003
The exterior
The starting point for the Continental R was 1985's Bentley "Project
90" styling exercise by British designers John Heffernan and Ken
Greenley. The final R design has a lower radiator grille that allows a
lower hood line, and the kick-up in the line of the rear wing evokes
that of Rolls-Royce's Corniche model. The later, shorter-wheelbase T
model has flared wheelarches and different bumper and sill treatments.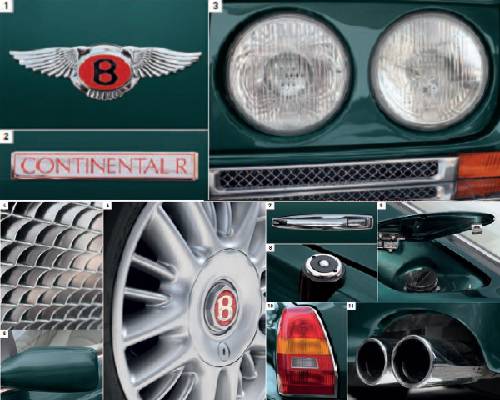 Logo essentially the same since 1919
Car revives famous Continental name
Twin headlights first seen on Turbo R
Mesh grille is a stainless-steel lattice
Slender door mirrors
Various designs of alloy wheel used
Sleek chrome door handle
Retractable radio antenna on rear wing
Fuel filler on rear pillar
Taillights unique to Continental and Azure
Tail-pipes hint at power
The interior
The quality of the Bentley's leathertrimmed interior is unparalleled. The Continental's cockpit has a more sporting flavor than a Bentley sedan, and features a center console extending into the rear compartment. The R dashboard is in beautifully crafted wood veneer, while on the T it is generally in engine-turned aluminum. A floor-mounted gearshift-as opposed to one on the steering column-was an innovation for a modern-day Bentley.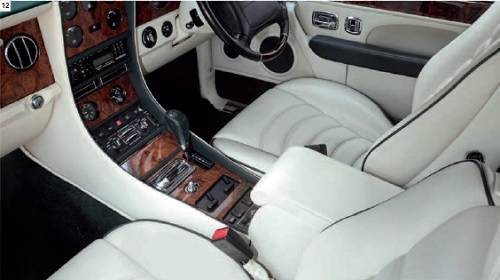 Sophisticated interior with walnut wood finish
Steering wheel less elegant than in the past
Speedometer bears Bentley logo
LCD display for mileage, automatic transmission, and fuel
Trademark chrome vents, operated by a small chrome knob
Auxiliary dials on console
Hefty chrome door "furniture"
Seat backs have pleated map pockets
Mulliner Park Ward is former in-house Rolls/Bentley coachbuilder
One-arm headrest
Under the hood
The all-aluminum V8, dating back to 1959, has old-fashioned pushrods rather than an overhead camshaft, and still has two valves per cylinder. Use of a turbocharger pushes power to 385 bhp, or to 400 bhp, and latterly 420 bhp in the T model-as also found in the special Continental T Mulliner version. The torque (pulling power) in this ultimate format is 650 lb ft at 2,200 rpm, more than any other car in the world at the time.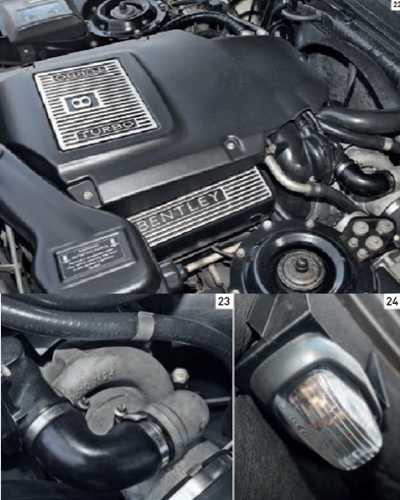 Modern shrouding hides 1950s engine design
Turbocharger source of Bentley's strong performance
Under-hood light