Walter Bersey, a precocious 20-year-old who had designed his own dry battery, was the first businessman to introduce a 'self-propelled' vehicle for hire on the streets of London. His early cabs resembled horseless carriages with twin 3.5bhp Lundell-type motors, a two-speed gearbox (with clutch) and chain final drive.
They were capable of a steady 9mph (14km/h) – more than enough to give them an edge over horse-drawn carriages. The forty-cell battery box was designed to slide out for quick changes – having encountered a problem, Bersey had found a way to engineer around it.
The public had their first glimpse of Bersey's cabs at a motor show in South Kensington in 1896 and a dozen were working for a living by August 1897.
They even took part in the London to Brighton Emancipation Run in November 1896, but could not complete the route. Their batteries exhausted, the cabs ignominiously completed the route by train. Bersey contracted out the manufacture of his cabs to the Great Horseless Carriage Company (the bodies were made by Arthur Mulliner, of Northampton), and, at its peak, his company had more than seventy.
His rates were competitive with horse-drawn cabs but the electrics boasted a level of luxury hitherto unknown – although the provision of electric lighting was not universally welcomed. Some passengers felt the internal lighting made them too conspicuous. They were nicked-named 'humming birds' for the sound their motors made as they drove by and their yellow and black paintwork.
Unfortunately the business got off to a rather inauspicious start when, just three weeks after the humming birds first took flight, a cabbie was charged with driving while drunk. The intoxicated driver was trying to negotiate one of the busiest thoroughfares in London – Bond Street – when he hit a wall. Magistrates fined him 20 shillings.
Less than a month later, a far greater tragedy struck when a 9-year-old boy, who had hopped on the back to hitch a ride, was pulled under when his coat was snagged by the drive chain. The poor youngster became the first child in Britain to die in a motor accident. Edward Nichol, the cabbie, told the inquest at Hackney Coroner's court that the Bersey was doing no more than 5mph. A juryman suggested fitting guards between the wheels and the chassis. The cabs were operated by the London Electric Taxi-cab Co. and could carry four passengers plus a substantial amount of luggage" after "Taxicab Co."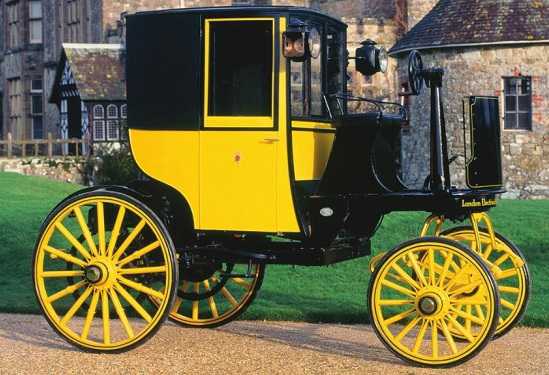 Nor were the cabs a model of reliability. Long hours and heavy use exacted a heavy penalty on the batteries, which quickly wore out and ruined tyres with their weight.
In a bid to balance the books, Bersey was forced to charge drivers more to lease their electric cabs. The daily rate of six shillings (30p) soared to more than double that – prompting many cabbies to quit in disgust.
Bersey responded by withdrawing the original fleet and replacing them with a new design that had improved batteries, but another highly publicized accident, when a Bersey ran out of control and crashed outside Hyde Park, was the final nail in the coffin. Faced with a hostile press, rising costs and fewer passengers, Walter threw in the towel. Some of his cabs were sold off at a cut price to independent cabbies, the rest were scrapped.
Other companies stepped into the breach. The Lambeth-based British Electromobile Company sought to take over where Bersey left off. It ordered a fifty-strong fleet of electric cabs. A Leeds engineering company built the chassis, which were fitted with bodies crafted by the famous Gloucester Wagon Company (among others). The cabs were operated by the London Electric Taxicab Co. and could carry four passengers plus a substantial amount of luggage.
Originally, Electromobile – which also furnished the City of London police with an electric ambulance stationed at St Bartholomew's hospital – hoped to run a fleet of 200 such cabs and, for a while, they were rather successful, but the advent of petrol-engined cabs with their vastly improved range drove the electric taxi fleet off the roads by the 1920s.