(b. Nov. 22, 1943, Long Beach, Calif., U.S.)
The American athlete and tennis player Billie Jean King (née Billie Jean Moffitt) is noteworthy for having elevated the status of women's professional tennis through her influence and playing style, beginning in the late 1960s. In her career she won 39 major titles, competing in both singles and doubles.
King was athletically inclined from an early age. She first attracted international attention in 1961 by winning the Wimbledon doubles championship with Karen Hantz; theirs was the youngest team to win. She went on to capture a record 20 Wimbledon titles (singles 1966–68, 1972–73, and 1975; women's doubles 1961–62, 1965, 1967–68, 1970–73, 1979; mixed doubles 1967, 1971, 1973–74), in addition to U.S. singles (1967, 1971–72, 1974), French singles (1972), and the Australian title (1968); her Wimbledon record was tied by Martina Navratilova in 2003.
She was perhaps one of the greatest doubles players in the history of tennis, winning 27 major titles. With her victories in 1967, she was the first woman since 1938 to sweep the U.S. and British singles, doubles, and mixed doubles titles in a single year.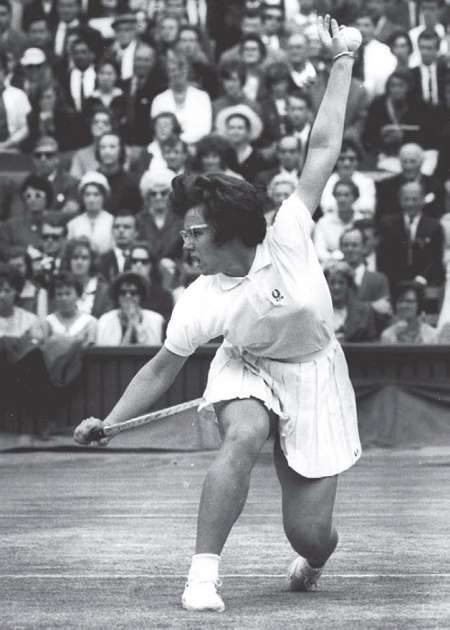 King turned professional after 1968 and became the first woman athlete to win more than $100,000 in one season (1971). In 1973 she beat the aging Bobby Riggs in a much-publicized "Battle of the Sexes" match. The match set a record for the largest tennis audience and the largest purse awarded up to that time.
She pushed relentlessly for the rights of women players, helped to form a separate women's tour, and obtained financial backing from commercial sponsors. She was one of the founders and the first president (1974) of the Women's Tennis Association.
King and her husband, Larry King (married 1965), were part of a group that founded World TeamTennis (WTT) in King served as the player-coach of the Philadelphia Freedoms, thus becoming one of the first women to coach professional male athletes. The WTT folded after 1978 because of financial losses, but King revived the competition in 1981.
King retired from competitive tennis in 1984 and the same year became the first woman commissioner in professional sports in her position with the World Team Tennis League. She was inducted into the Women's Sports Hall of Fame in 1980, the International Tennis Hall of Fame in 1987, and the National Women's Hall of Fame in 1990.
King remained active in tennis and since the mid-1990s served as coach for several Olympic and Federation Cup teams. The United States Tennis Association honoured King in August 2006, when it renamed the National Tennis Center, home of the U.S.