In 1926 the ailing Duesenberg firm was bought by the businessman Errett Lobban Cord, who already owned the Auburn motor company and would go on to create a famous car marque under his own name. Cord briefed the Duesenberg brothers to design the ultimate high-speed luxury U.S. car, and in 1928 they came up with the Model J. Powered by a superb straight-eight engine, it led to the popular phrase "It's a Duesy," meaning the very best.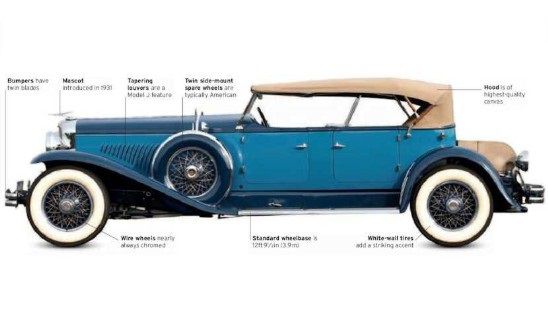 Duesenberg Model J (1928-37)
Assembly Indianapolis, USA
Production 471, including Model SJ
Construction Separate chassis
Engine 6,882 cc, dohc straight-eight
Power 265 bhp at 4,250 rpm
Transmission Thre-speed manual
Suspension Rigid axle, leaf springs
Brakes Four-wheel drum, hydraulic
Maximum speed 115 mph (185 km/h)
At the heart of the Model J was the magnificent power unit-built by aero-engine specialist Lycoming, a Cord-owned company. With its straight-eight engine, the Model J offered good acceleration despite its bulk, and was capable of cruising at 95-100 mph (153-161 km/h).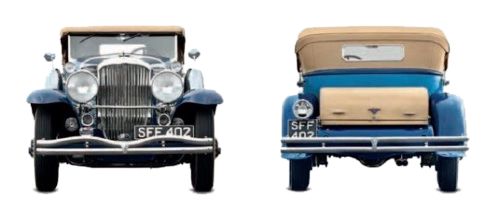 From 1929 it also had hydraulic brakes with servo assistance, and light steering so the car was not demanding to drive. But the Model J, which carried bodies by top U.S. coachbuilders, was expensive: The rolling chassis cost roughly 19 times the price of a Ford Model A. In the lingering depression of 1930s America, this Duesenberg sold with difficulty, and in the end only 471 were made.
Of the total, an estimated 35 were the supercharged SJ models, with dramatic outside exhaust pipes that were also fitted to some later Model Js. Most SJs were built on a shorter-wheelbase chassis, but some had the regular-length frame. There were also two cars with a special ultra-short chassis called the SSJ; carrying rakish two-seat coachwork, these went to the Hollywood actors and Duesenberg marque loyalists Clark Gable and Gary Cooper.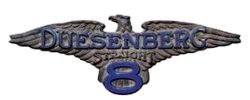 Controlled exuberance
The Model J's lines were essentially conservative-at least for most examples. But occasional flourishes made a big difference, such as the sweeping dual-blade bumpers and the styling contours pressed into the mudguards. The car's frontage was a mass of gleaming chrome, with huge headlights and a stylishly executed radiator grille; the round chromed objects seen under the front mudguards on this 1931 model are an early form of hydraulic damper, with a rotary action to absorb shocks.
Where eagles soar
Fred and August Duesenberg started making marine engines and racing cars in 1913, and introduced their first production car in 1920. The eagle in the badge epitomized American freedom. The company came to an end with the 1937 collapse of the Auburn-Cord-Duesenberg combine.
Duesenberg Model J interior
Relative to luxury British cars of the time, their U.S. counterparts were surprisingly sober. The Model J has a plain interior lifted only by the luster of its engine-turned metal dashboard. The use of a right-hand accelerator is notable, as many European cars still had a central pedal at the time.
Duesenberg Model J exterior
The Model J's body was always built by outside coachbuilders, but often under the supervision of Duesenberg's head of styling Gordon Buehrig. This resulted in a certain shared look to many bodies. The most prolific builder of Model J bodies was Murphy of Pasadena, but this particular 1931 car is one of eight with "Tourster" open-touring coachwork by the respected Pennsylvania company Derham.
Under the hood Duesenberg J
In an era when plodding sidevalve engines were commonplace, the Model J's straight-eight engine, with four valves per cylinder, was extremely advanced. It featured overhead valves that were operated by double overhead camshafts. The 6,882 cc unit claimed to deliver 265 bhp, deliberately exaggerated, as Cadillac's V16 managed a genuine 165 bhp. The supercharged SJ of 1932–35 boasted a mighty 320 bhp.