(b. April 21, 1926, London, Eng.)
Elizabeth II reigned as the queen of the United Kingdom of Great Britain and Northern Ireland from Feb. 6, 1952.
Elizabeth II, born Elizabeth Alexandra Mary, was the elder daughter of Albert, duke of York, and his wife, Lady Elizabeth Bowes-Lyon. As the child of a younger son of King George V, the young Elizabeth had little prospect of acceding to the throne until her uncle, Edward VIII (afterward duke of Windsor), abdicated in her father's favour on Dec. 11, 1936, at which time her father became King George VI and she became heir presumptive.
The princess's education was supervised by her mother, who entrusted her daughters to a governess, Marion Crawford; the princess was also grounded in history by C.H.K. Marten, afterward provost of Eton College, and had instruction from visiting teachers in music and languages. During World War II she and her sister, Princess Margaret Rose, perforce spent much of their time safely away from the London blitz and separated from their parents, living mostly at Balmoral Castle in Scotland and at the Royal Lodge, Windsor, and Windsor Castle.
Early in 1947 Princess Elizabeth went with the king and queen to South Africa. After her return there was an announcement of her betrothal to her distant cousin Lieutenant Philip Mountbatten of the Royal Navy, formerly Prince Philip of Greece and Denmark. The marriage took place in Westminster Abbey on Nov. 20, 1947. On the eve of the wedding her father, the king, conferred upon the bridegroom the titles of duke of Edinburgh, earl of Merioneth, and Baron Greenwich. They took residence at Clarence House in London. Their fi rst child, Prince Charles (Charles Philip Arthur George), was born Nov. 14, 1948, at Buckingham Palace.
In the summer of 1951 the health of King George VI entered into a serious decline, and Princess Elizabeth represented him at the Trooping the Colour and on various other state occasions. On October 7 she and her husband set out on a highly successful tour of Canada and Washington, D.C. After Christmas in England she and the duke set out in January 1952 for a tour of Australia and New Zealand, but en route, at Sagana, Kenya, news reached them of the king's death on Feb. 6, 1952.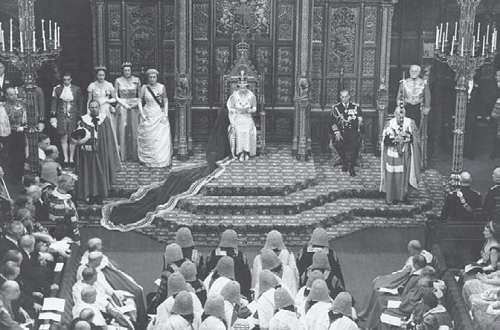 Elizabeth, now queen, at once flew back to England. The first three months of her reign, the period of full mourning for her father, were passed in comparative seclusion. But in the summer, after she had moved from Clarence House to Buckingham Palace, she undertook the routine duties of the sovereign and carried out her first state opening of Parliament on Nov. 4, 1952. Her coronation was held at Westminster Abbey on June 2, 1953.
Beginning in November 1953, the queen and the duke of Edinburgh made a six-month round-the-world tour of the Commonwealth, which included the first visit to Australia and New Zealand by a reigning British monarch. In 1957, after state visits to various European nations, she and the duke visited Canada and the United States.
In 1961 she made the first royal British tour of the Indian subcontinent in 50 years, and she was also the first reigning British monarch to visit South America (in 1968) and the Persian Gulf countries (in 1979). During her "Silver Jubilee" in 1977, she presided at a London banquet attended by the leaders of the 36 members of the Commonwealth, traveled all over Britain and Northern Ireland, and toured overseas in the South Pacific and Australia, in Canada, and in the Caribbean.
On the accession of Queen Elizabeth, her son Prince Charles became heir apparent; he was named prince of Wales on July 26, 1958, and was so invested on July 1, 1969. The queen's other children were Princess Anne (Anne Elizabeth Alice Louise), born Aug. 15, 1950; Prince Andrew (Andrew Albert Christian Edward), born Feb. 19, 1960, and created duke of York in 1986; and Prince Edward (Edward Anthony Richard Louis), born March 10, 1964. All these children have the surname "of Windsor," but in 1960 Elizabeth decided to create the hyphenated name Mountbatten-Windsor for other descendants not styled prince or princess and royal highness. Elizabeth's first grandchild (Princess Anne's son) was born on Nov. 15, 1977.
The queen seemed increasingly aware of the modern role of the monarchy, allowing, for example, the televising of the royal family's domestic life in 1970 and condoning the formal dissolution of her sister's marriage in 1978. However, after the failed marriage of her son and Diana, princess of Wales, and Diana's death in 1997, popular feeling in Britain turned against the royal family, which was thought to be out of touch with contemporary British life. In line with her earlier attempts at modernizing the monarchy, the queen, after 1997, sought to present a lessstuffy and less-traditional image of the monarchy. These attempts have met with mixed success.
Queen Elizabeth has been known to favour simplicity in court life and take a serious and informed interest in government business, aside from the traditional and ceremonial duties. Privately she has become a keen horsewoman; she has kept racehorses, frequently attended races, and periodically visited the Kentucky stud farms in the United States. Her financial and property holdings have made her one of the world's richest women.