In 1954, this dumpy-looking sedan was probably the most advanced, and safest, family car in the world. It heralded a visionary project started by colorful Irish tractor tycoon Harry Ferguson. In one of many business battles, Ferguson had fallen out with Ford over American tractor design patents, and in 1952, he won $9.25 million in a legal settlement with the Detroit giant.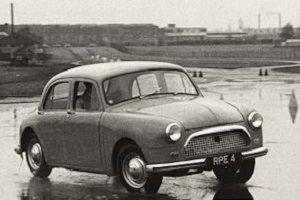 Ferguson R4 1954
YEAR REVEALED 1954
PLACE OF ORIGIN Redhill, Surrey, UK
HISTORICAL STATUS prototype
ENGINE flat-four-cylinder, 134ci (2,200cc)
MAXIMUM POWER unknown
LAYOUT front-mounted engine driving all four wheels
BODYWORK four-seater sedan
TOP SPEED unknown
NUMBER BUILT one
A year later, he'd merged his Ferguson Tractors firm with a Canadian rival, which gave him $16 million-worth of shares in the new Massey-Harris-Ferguson business. But instead of relishing his pension, the 66-year-old Ferguson had founded Harry Ferguson Research in 1950. His conviction was that everyday cars could be made much safer in wet or slippery road conditions if they had four-wheel drive, and he was soon joined by racing driver Tony Rolt and ex-Aston Martin designer Claude Hill.
By the time the R4 was completed in 1954, the evolving prototype had another important innovation: the world's first anti-lock brakes, developed with Dunlop and called Maxaret. This technical package gave the car spectacular safety advantages, and led to the even more impressive 1959 R5 research vehicle, a proper rolling billboard in estate car form.
In 1966, the exclusive Jensen FF became the first production car to use Ferguson's four-wheel drive and skid-proof braking. In 1980, the package finally reached mainstream family cars with the American Motors Eagle range. Sadly, Ferguson didn't see any of this-he died in 1960.