Pickup trucks have been part of the fabric of American society for almost a century, and none more so than Ford's F-Series. It was the first all-new offering from Ford following the post-war resumption of civilian car manufacturing, and was advertised as "Built Stronger to Last Longer."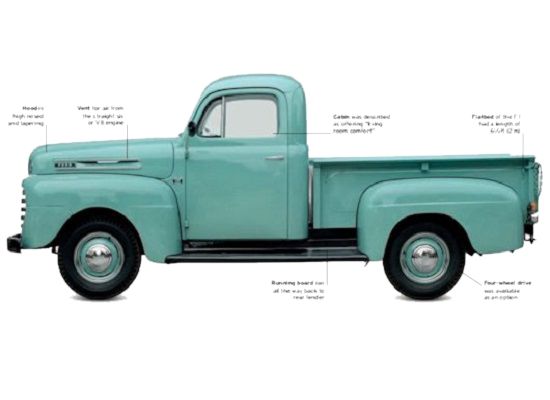 SPECIFICATIONS Ford F-1 (first generation, 1948–52)
Model Ford F-1 (first generation, 1948–52)
Assembly USA
Production 628,318
Construction Ladder-frame chassis
Engine 215/226 cu in straight-six, 239 cu in V8
Power 95–106 bhp at 3,300–3,800 rpm
Transmission Three- or four-speed manual
Suspension Front and rear leaf springs
Brakes Drums front and rear
Maximum speed 70 mph (112 km/h)
The models proved sosuccessful that the series became the best-selling vehicles in the United States for over two decades, and has remained in continuous production ever since its launch in 1948. FORD'S EXPERIENCE of producing pickup trucks from the 1920s onward meant that after World War II, the company was well placed to construct a brand new line of utility vehicles.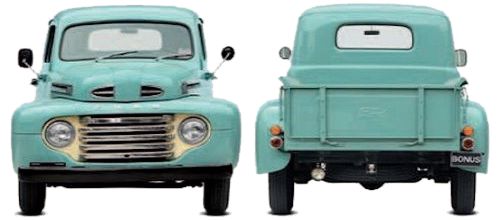 Known as "Bonus Built" trucks due to their extra features, the F-Series from 1948 consisted of 1⁄2-ton (F-1), 3⁄4-ton (F-2), and 1-ton (F-3) payload variants, plus larger workhorses, such as the F-5, with massive load capacities. The F-Series looked like no pickups before: Individually designed cabs were separated from their flatbeds, unlike the adapted automobiles that had passed for pickups prior to the war.
Ford trumpeted the originality of its trucks with lines such as "Star-Spangled New! Excitingly Modern! Strikingly Different!" Beneath the shiny exteriors were new engines that promised more power and economy than ever before in a pickup. It was a winning blend that immediately appealed to U.S. buyers; just under 110,000 F-1s were sold in 1948, making it the most successful year for Ford truck sales for almost two decades. Such was the strength of the original template that the descendents of the F-Series are still going strong more than 60 years later.
Easy rider
The F-Series' much-vaunted "Million-Dollar Truck Cab" was the result of a development program that sought to provide the driver and up to two passengers with comfort, space, and visibility that had not previously been available in a pickup. Externally, as seen on this 1948 F-1, the front end was a bold design statement consisting of a high hood line with nostril-style air vents, five-bar horizontal chrome grille, and headlights positioned either side of the bars.
The renowned Ford script was patented in 1909 after being used by the company in various forms during the first few years of the decade.
A couple of years later an oval background was added to the design, but on the F-1 just the script was pressed int othe steel of the tailgate.
Ford F-Series 1948 interior
Ride quality was given prominence in Ford's new pickups, with the inclusion of additional pads and additional rubber bushings (energy-absorbing sleeves) enabling near-automobile levels of handling and roadholding. Previously seen spartan interiors, where the emphasis was solely on functionality, gave way to luxuries that included a "coach-type" bench seat, three-way cabin air control, and a maximum-visibility windscreen. Extras included a passenger-side sun visor and windshield wiper, plus an additional horn.
Ford F-Series 1948 exterior
By constructing the cab separately from the working area at the rear, Ford was able to offer over 139 body-chassis combinations. This meant that the F-Series was available in a variety of styles, including vans, pickups, and platform trucks, with gross load capacities up to 22,000 lb (10,000 kg), inclusive of vehicle weight.
Under the hood Ford F-Series 1948
The post-war economic landscape demanded appropriately economical vehicles. For the F-1, this meant two new units: a 226 cu in (3,703 cc) straight-six and a 239 cu in (3,916 cc) V8, shown here.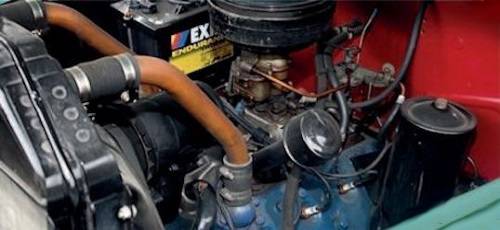 The former was replaced in 1952-the last year of the first-generation models-by a 215 cu in (3,523 cc) overhead-valve six that almost matched the performance output of the V8. Besides being strong and reliable, these engines were also especially frugal, with modest fuel and maintenance costs, leading to attractively low running costs.