This extreme study in automobile aerodynamics was the center of attention at the 1955 Turin motor show, where it rotated majestically and silently on a spacious turntable before startled visitors.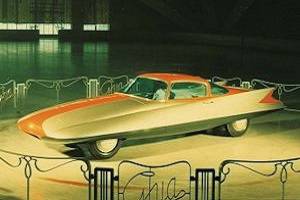 Ghia Gilda 1955
YEAR REVEALED 1955
PLACE OF ORIGIN Turin, Italy
HISTORICAL STATUS prototype
ENGINE none originally fitted but a four-cylinder, 91ci (1,491cc) engine anticipated
MAXIMUM POWER unknown
LAYOUT front-mounted engine driving the rear wheels
BODYWORK two-door, two-seater racer
TOP SPEED 140mph (225kph) (notional)
NUMBER BUILT one
Ghia's Gilda came together after collaboration between the Turin Polytechnic and Giovanni Savonuzzi, a designer recently recruited from Cisitalia. Starting in November 1954 with scale models and eventually progressing to the full-size car, it was extensively wind-tested to overcome what Savonuzzi called "the imperfectly understood science" of streamlining.
The Gilda was as impractical an everyday proposition as many other styling exercises, with its two huge fins rising arrow-like along each of its lengthy flanks, its enclosed wheels, and its unfeasibly slim roof pillars. None of which mattered, of course, because this was a show car, pure and simple. Still, it didn't stop Ghia claiming the car had the potential to hit 140mph (225kph) if fitted with a tuned OSCA engine, when in fact, no drivetrain was installed at all inside the tubular steel-framed, aluminum panelled façade.
The publicity machine rolled on after its circuit of European motor shows. The car was offered free to the Henry Ford Museum in Dearborn, Michigan, and in October 1955, it was sent to the US. In 1956, Ghia built two further cars directly inspired by what it now termed the "Gilda Line"-the Ghia Dart and an incredible Ferrari 410 Superamerica. They shared the gigantic tailfins, but were actual runners.