Hudson, founded in 1909, was among the last of the American "independents"-carmakers who struggled and ultimately failed in the face of the mighty Ford, General Motors, and Chrysler. Although its cars during the 1920–30s were mostly unremarkable, Hudson shocked the burghers of Detroit in 1948 with its range of "Step Down" cars.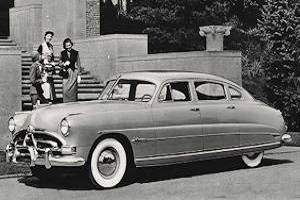 Hudson Commodore 1948
YEAR REVEALED 1948
PLACE OF ORIGIN Detroit, Michigan
HISTORICAL STATUS production car
ENGINE six-cylinder, 262ci (4,295cc) & eight-cylinder, 254ci (4,164cc)
MAXIMUM POWER 121bhp (six-cylinder) & 128bhp (eight-cylinder)
LAYOUT front-mounted engine driving the front wheels
BODYWORK six-seater saloon
TOP SPEED 93mph (150kph)
NUMBER BUILT 529,590
They were so-nicknamed because driver and passengers stepped down into their seats due to a unitary-construction method Hudson called "Monobilt": instead of the body being bolted on top of the chassis, the floorpan was suspended from the bottom of it. All the occupants sat within the chassis sidemembers, which acted as a strong, encircling perimeter frame.
As part of the design, the chassis extended around the outside of the rear wheels. Hudson's stylists then came up with sleek and handsome bodywork that made a 1948 Hudson the "car to own." The range went from the budget-priced Pacemaker to the Commodore. Yet the firm's sales and fortunes were on the slide under ferocious pressure from the Detroit majors. In 1954, Hudson was forced to merge with Nash to survive.