No two-seater, mid-engined sports car in the world has had a longer life than the Esprit, on sale from 1976 to 2004. The car came about when Lotus founder Colin Chapman decided to update his Europa.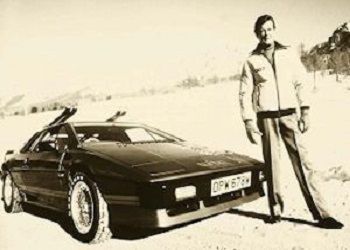 Lotus Esprit 1975
YEAR REVEALED 1975
PLACE OF ORIGIN Hethel, Norfolk, UK
HISTORICAL STATUS production car
ENGINE four-cylinder, 120–133ci (1,973–2,174cc) and V8-cylinder, 214ci (3,506cc)
MAXIMUM POWER 350bhp
LAYOUT mid-mounted engine driving the rear wheels
BODYWORK two-seater coupé
TOP SPEED 175mph (282kph)
NUMBER BUILT 10,675
But, instead of using his own stable of designers, Chapman chose a young Italian he met by chance, Giorgetto Giugiaro. The result was low-slung and ultra-wedgeshaped, a racing car for the road that you had to be agile just to climb into.
It was built around Lotus's famed "backbone" chassis, with the engine centrally located behind the driver's shoulders. The prototype caused a sensation at the 1972 Turin Motor Show. The wider world, however, came to know the Esprit through the movies. In an astute "product placement" deal, Chapman persuaded producers of the James Bond films to feature his Esprit in the 1977 film The Spy Who Loved Me.
Roger Moore's white example was as fast at sea as it was on the road, in one memorable scene being driven by Bond underwater-and, to the surprise of sunbathers, out on to the beach. Certainly, no real-life buyers could specify concealed missiles, periscope, or on-board radar.
In fact, early "real" Esprits tended to overheat, vibrated horribly, and were judged claustrophobic and not especially rapid. Still, roadholding was never less than scintillating and by 1980, and the launch of the 152mph (245kph) Esprit Turbo, it was enormously improved. One year later and it also notched up its third James Bond outing.