Introduced to the public on October 14, 1965, the luxurious Toronado was America's first front-wheel drive car since the Cord 810, 30 years earlier. Its clean styling was a landmark-rated by William Mitchell, studio chief at the time, as one of the best-looking General Motors cars ever.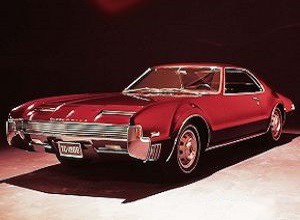 Oldsmobile Toronado 1965
YEAR REVEALED 1965
PLACE OF ORIGIN Detroit, Michigan
HISTORICAL STATUS production car
ENGINE V8-cylinder, 425–454ci (6,965–7,446cc)
MAXIMUM POWER 400bhp
LAYOUT front-mounted engine driving the front wheels
BODYWORK two-door, four-seater coupé
TOP SPEED 135mph (217kph)
NUMBER BUILT 143,134
Heavily flared wheelarches suggested enormous wheels, its rear wings and roof pillars blended into one smooth plane, and retractable headlamps added to frontal elegance. Oldsmobile's engineers deemed the shape perfect for the front-wheel drive platform they'd spent seven years perfecting.
Front-drive "XP-784" prototypes disguised with Oldsmobile 98 bodies had undergone an unprecedented 1.5 million miles (2.4 million kilometers) of road testing. Consequently, the Toronado was overengineered, with beefed-up Hydramatic automatic transmission and even custom Firestone tires with stiffened sidewalls.
Torsion bar front suspension was chosen for its compactness, and at the back was a beam axle on leaf springs. Suspension, powertrain, and floorpan were all carried in a large subframe, to limit noise and vibration transfer to the passengers. The sole weakness was its all-drum brakes, which were prone to fading; front discs remedied that.
This Oldsmobile drew acclaim for its traction and roadholding, receiving MotorTrend magazine's Car Of The Year award. The first-generation car lasted until 1970. The Toronado name, however, while dynamic-sounding, was totally meaningless.