Manufacturers of electric vehicles were already well aware of the drawbacks imposed by storage batteries and work was going on both sides of the Atlantic to find a way of solving the biggest problem of them all: how to extend the range-to-empty.
At the World Exhibition in Paris, in 1900, k.u.k. Hofwagenfabrik Ludwig Lohner & Co. unveiled the Lohner–Porsche. The car, called the Toujours-Contente, was the work of Lohner's chief designer, a young man called Ferdinand Porsche. As a fresh-faced 18-year-old, Porsche had caught a train from North Bohemia for Vienna, where he landed his first job working for the Bela Egger Electrical company. Although he had no formal education in engineering, Porsche showed a flair for design that caught the eye of his new employer. He had developed an almost friction-free drivetrain by mounting electric motors in the front wheel hubs. By using the rotation of the wheel as the rotor of a DC motor, Porsche was able to do away with gears and drive shafts.
His novel approach resulted in a motor that was 83 per cent efficient – perfect for an automotive application where batteries were still struggling to keep up with the ambitions of car designers. Within four years Porsche was promoted to head of the company's test department, where his flair brought him to the attention of Jacob Lohner, a coach-builder with ambitions to become a car manufacturer.
Lohner was looking to develop a car as a way of making up for a slump in orders for his coaches. After he was rebuffed by Karl Benz and Gottlieb Daimler, Lohner decided to go it alone. His first attempt, with a French-made internal combustion engine, ended in ignominy when the block cracked after less than 15 minutes. After briefly flirting with Rudolf Diesel's then radical ideas for an internal combustion engine, Lohner partnered with Bela Egger to design and build an electric vehicle.
Possibly because of his early setbacks with the technology, Lohner became a vocal critic of the gasoline-powered internal combustion engine and an early environmentalist. In 1898 he wrote:
Leave us 'world villagers' the last remnants of oxygen and clean air that our wonderful society has bestowed on us. This air is polluted ruthlessly by the combustion products of the growing number of gasoline engines.
The Lohner–Porsche was a revelation for the time. Its motors were housed in the wooden-spoke front wheels – one of the reasons why they each weighed a hefty 253lb (115kg). Each one was good for 2.5bhp at a mere 120rpm – enough to accelerate the first Lohner–Porsche to its 23mph (37km/h) top speed.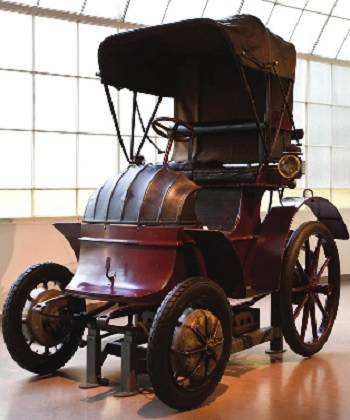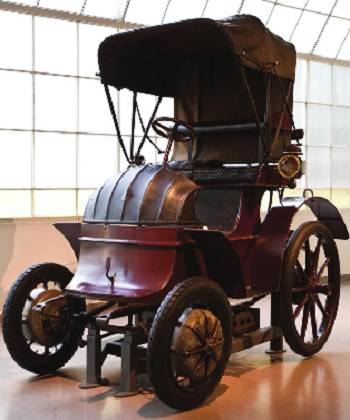 In September 1900, Lohner built a high-power sports special for the English gentleman racer E. W. Hart. The 4-ton monster, which was personally delivered by Ferdinand Porsche himself, had two extra motors acting on the rear axle – making it the first electric four-wheel drive car – and an enormous battery pack that had to be suspended on coil springs to protect the delicate cells. The one-off cost Hart 15,000 Austrian crowns – almost twice the price he had paid for a standard two-wheel drive car a few months earlier. They named the car Le Toujours-Contente (Forever Satisfied) possibly as a lighthearted dig at Camille Jenatzy whose car, Jamais Contente, was never satisfied.
Hart, who also sold cars and acted as Lohner–Porsche's British agent, said the car was 'speeded from five to fifty miles an hour, has four speed forward and two reverse with two electrical brakes, and is fitted with a special switch for recuperation of batteries while running down hill'. It apparently displayed 'wonderful speed when it was allowed to sprint' but the weight of its batteries proved a significant drawback.
In November 1900, Hart pitched his car into battle with Porsche himself at the wheel. The Automobile Club of Great Britain and Ireland organized a speed trial for electric cars at the Chiselhurst Electric Light Station just outside London. The car was innovative in other ways, too. It had powerful brakes front and back – an electric front brake and a mechanical strap-type brake acting on the rear wheels – so it stopped as well as it went. There was also a ratchet-type handbrake that operated on the rears to prevent the car rolling backwards when stopped on a hill.
Although the Lohner was fast, its vast weight exacted a terrible toll on the Continental pneumatic tyres. The test was run after torrential rain and the roads were "heavy in mud", according to a report. Porsche and his passenger rolled to a halt when the tyres burst after a disappointing 34 miles (54km). The winner, a French Krieger entered by the British and Foreign Electrical Vehicles Company, covered 59 miles (94.9km) at an average of 10mph (16km/h). Just to make things worse, Porsche came down with a terrible cold as a result of his efforts and could not continue the race.
Nevertheless he bounced back in some style. He won the 1901 Exelberg Rally and a magazine reviewer commented the car showed 'no tendency to skid in sharp curves or on smooth, miry cobbles, or at least only momentarily, very much like being pulled by a horse, in which skidding is extremely short-lived and is rarely perceived as uncomfortable'.
Hart, who came from Luton, also produced his own light, electric two-seater called the Lutonia but its 2-bhp Bergmann electric motor paled beside the Lohner–Porsche. The motor was directly connected to the rear axle. Hart gave up on his own designs in 1901 to sell the Lohner–Porsche and Austro-Daimler electric vehicles before switching allegiance to cars powered by internal combustion.
Lohner company built around 300 all-electric Lohner–Porsche cars. Depending on the options, a wealthy owner specified they cost between 10,000 and 35,000 Austrian crowns. Lohner marketed it as a prestige vehicle only available to rich clients. Owners included the wealthy banker Baron Nathan Rothschild, early cinema pioneer Ludwig Stollwerck, Prince Egon von Furstenberg and the Viennese coffee magnet Julius Meinl.
However, the problems of weight and range vexed Porsche and in Autumn 1900 he set to work on a solution – a petrol–electric hybrid drive. The prototype, called the Semper Vivus (Always Alive), combined the electrical wheel-hub motors with two combustion engines, which drove an electric generator that supplied both the wheel-hub motors and accumulators. The twin-power solution required changes to the original layout.
The original 74-cell accumulator was swapped for a smaller glass-bodied 44-cell battery, mounted on a separate sprung chassis, to free up enough room for a couple of water-cooled 3.5bhp de Dion single-cylinder petrol engines. These drove twin 2.5bhp generators, which provided 20A at 90V to power the wheel motors and charge the accumulator. Both engines operated independently and the generators could be used to start the petrol engines by the simple expedient of reversing their direction of rotation.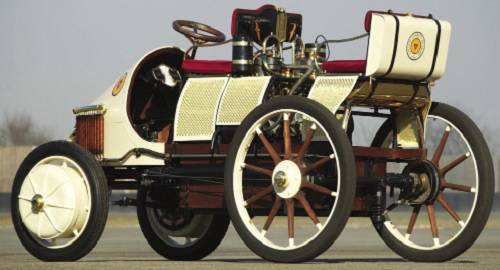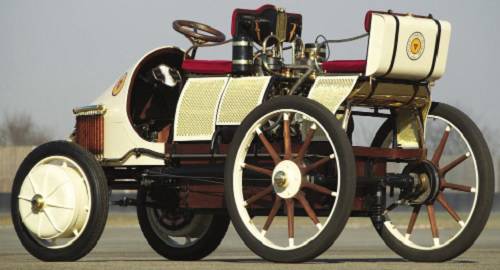 The Semper Vivus was hauled down from its theoretical maximum speed of 25mph (40km/h) by footbrake-operated external rear wheel-drum brakes. In an emergency, the current to the wheel motors could be reversed – albeit with catastrophic consequences for the front axle, as the torque abruptly changed direction.
The Semper Vivus could run silently on battery power alone until they were drained, when the petrol engines could be engaged to recharge the cells.
| | |
| --- | --- |
| Engine: | 2 x single-cylinder de Dion combustion engines |
| Output: | 2.5 bhp per cylinder |
| Electric motor output: | 2.7 bhp per wheel |
| Top speed: | 22 mph (35 km/h] |
| Range: | 124 miles (200 km) |
| Width: | 73 in (1,880 mm) |
| Length: | 132 in (3,390 mm) |
| Height: | 72 in (1,850 mm) |
| Total weight: | 1.7 tons |
| Front wheel weight: | 598 lb (272 kg) |
| Track F: | 53 in (1,350 mm) |
| Track R: | 60 in (1,540 mm) |
| Wheelbase: | 90 in (2,310 mm) |
| Ground clearance: | 10 in (250 mm) |
Semper Vivus
Although the prototype was not without problems – it was heavy, the pneumatic tyres struggled to cope with the extra weight, the turning circle was 53ft (16m) and, because so much of the running gear was exposed to the elements, the accumulators suffered from dirt thrown up from the tyres – its potential was obvious.
In 1901, the concept was ready for series production under the Lohner–Porsche Mixte name. An electrical generator beneath the front seats was connected via a driveshaft to a powerful 5.5-litre, 25bhp Daimler 4-cylinder combustion engine.
In the name of weight-saving, the Mixte used a relatively small battery, in a dust-proof housing, for intermediate energy storage and Porsche's wheel hub motors drove the fronts. In normal driving the petrol engine and generator ran at a constant speed, feeding the wheel-hub motors and battery with electricity at a constant voltage. The car also featured regenerative braking and, again, the generator also acted as a starter for the petrol engine. Incredibly, the Mixte weighed 1,322lb (600kg) less than just the battery pack in E. W. Hart's racer built just a year earlier. However, the reduction in battery size also reduced the car's ability to travel far solely on electrical power.
Lohner sold five Mixte cars in 1901 at a price of approximately 14,000 krone each. One of these early adopters was Emil Jellinek, the well-known agent of the Daimler engine company in Stuttgart-Untertürkheim and the inspiration behind the first Mercedes, which had been named after his daughter. Sadly, hopes of a Mercedes engine supply arrangement came to nothing and only seven Lohner–Porsches with Daimler engines were built. From 1903, the company switched to petrol engines from the French company Panhard et Levassor, which had licensed the Mixte design from Lohner for France, Great Britain and Italy.
Porsche continued to refine the concept, both for reasons of improved performance and reduced cost. The pure electric drive mode was dropped, the battery was cut down to a size required for the starter motor and the generator was fitted with an electro-mechanical speed regulator. A redesigned wheel hub allowed the kingpins to be located closer to the centre of the wheel, reducing steering effort and wheel deflection on poorly surfaced roads.
Porsche raced a two-seat Mixte car incorporating these improvements in 1902 and, in a mountain race at Exelberg, near Vienna, he emerged victorious in the large car class. In the Autumn of the same year, he acted as chauffeur to the infamous Austrian Archduke Franz Ferdinand who rode in a Lohner–Porsche with a touring body during military manoeuvres. His Imperial Majesty took the time afterwards to write a brief thank you letter to Porsche expressing his satisfaction at the drive.
Despite the publicity garnered by a successful racing campaign and high-profile demonstrations, sales of the Lohner–Porsche Mixte were way below the company's expectations. Only eleven examples were sold – a poor return for 5 years of hard work and a substantial investment. The car's technical excellence meant it was hideously expensive – depending on equipment, a Lohner–Porsche Mixte cost between 14,400 and 34,028 krone, making it twice the price of a conventional car. In addition, the complexity of the powertrain meant each one needed careful, and expensive, maintenance if it was to operate reliably.
Ferdinand Porsche
Ferdinand Porsche was born in Mattersdorf, in what was then North Bohemia, in 1875. He was an excellent mechanical engineer, although the only formal engineering education he ever had was sneaking into night classes at the Vienna Technical University.
After working for Jacob Lohner, the young Porsche spent time at Austro-Daimler and the Daimler parent company before he left to set up an automotive consultancy. Porsche created Germany's answer to the Ford Model T – the 'Volkswagen' – developed under a contract with the Third Reich. He also created the infamous Auto Union Grand Prix cars, which won races and set land-speed records.
After a spell in prison at the end of the war, when the company was run by his son, Ferry, Porsche returned and oversaw production of the Type 356 – the first Porsche sports car.
In November 1950, shortly after celebrating his 75th birthday, Porsche suffered a devastating stroke. He never recovered and died on 30 January 1952, leaving behind a sporting legacy that endures to this day.
If the Mixte was a sales flop at least Lohner saw a modest return on the full electric vehicle. Approximately sixty-five Lohner–Porsche electric cars were sold during the first 5 years of series production to the end of 1905.
Porsche himself had the last laugh: 60 years later his hub motor design would be revisited by NASA scientists and the concept was used in the lunar rover.
In 1905, Porsche was awarded the Potting Prize as Austria's most outstanding automotive engineer in recognition of his groundbreaking efforts. Sadly for the Lohner company, Porsche's growing reputation had brought him to the attention of other car manufacturers, and the following year he departed for Daimler–Benz. A disappointed Jacob Lohner said prophetically: 'He is very young, but is a man with a big career before him. You will hear of him again.'
Today, Ferdinand Porsche's spirit lives on at the company that bears his name. In 2011, Porsche's first production hybrid, the Cayenne S SUV, went on sale across the world. Its power comes primarily from a supercharged 3.0 V6 with direct fuel injection boosted by a 53bhp electric motor. However, the Cayenne can also drive in full electric mode and in the so-called 'sailing' mode the combustion engine is switched off and disengaged at high speeds.
Maximum combined output is 374bhp and peak torque of 405lb ft (550Nm) at 1,500rpm, yet it consumes less than 9ltr/100km – equal to CO2 emissions of less than 210g/km. The same parallel full hybrid system has also been adapted for use in the Panamera grand touring car and Porsche engineers are busy developing a 911 GT3 hybrid race car for competition, as well as the 918 Spyder plug-in supercar first shown at the Geneva Auto Show in 2010.