Car manufacturers revere the imageboosting aura of Formula One, but few are able to match this in their showrooms. However, Renault found a novel way to fuse Grand Prix machine with suburban shopping car in its amazing Clio V6.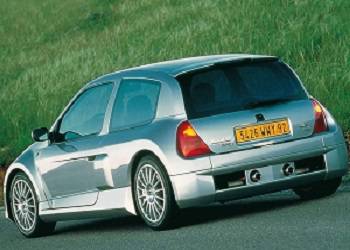 Renault Spor Clio V6 2000
YEAR REVEALED 2000
PLACE OF ORIGIN Uddevalla, Sweden, and Paris / Dieppe, France
HISTORICAL STATUS production car
ENGINE V6-cylinder, 180ci (2,946cc)
MAXIMUM POWER 252bhp
LAYOUT rear / mid-mounted engine driving the rear wheels
BODYWORK three-door, two-seater hatchback
TOP SPEED 153mph (246kph)
NUMBER BUILT 866
Instead of squeezing a tuned 227 bhp Renault sport V6 power unit under the hood of a normal front-wheel drive Clio, Renault removed the back seats, and positioned the engine transversely between the rear wheels. The resulting car looked outwardly normal, but boasted race car-style handling and high performance.
Although the inner shell, roof, hood and boot were shared with other Clios, the V6 was almost entirely new underneath its flamboyantly flared wheelarch side pods. With luggage space stolen by the engine, and heavy gas consumption, it wasn't practical; instead, here was a two-seater car with scintillating handling, despite tricky slippery-road traction and poor steering lock.
The V6 and six-speed gearbox installation entailed such major reworking that the car weighed 661lb (300kg) more than the most powerful "ordinary" Clio, the 172 Cup, with similar acceleration. Renault conceived the V6 in 1998, and contracted its development to race team TWR who engineered it in the UK and hand-built it in Sweden.
When the main Clio range was updated stylistically in 2003, so was the V6, also seeing its power upped to 252bhp and suspension realigned to tame its hairy waywardness.