Strictly speaking, only one Rolls-Royce is named Silver Ghost: the unique, silver-painted, 40/50 hp open tourer with silver trim that was used in 1907 for a 15,000-mile (24,000-km) reliability trial. The title has, however, been retrospectively applied to all examples of the 40/50 hp made between 1906 and 1925-the model that established Rolls-Royce as the maker of "The Best Car in the World."
Assembly Mainly Manchester and Derby, UK
Production 7,876
Construction Steel chassis; varying bodies
Engine 7,410 cc, side-valve straight-six
Power 65 bhp approx. at 1,750 rpm
Transmission Four-speed; three-speed after 1909
Suspension Rigid axles with leaf springs
Brakes Drum; rear brakes only until 1924
Maximum speed 50-75 mph (80-121 km/h)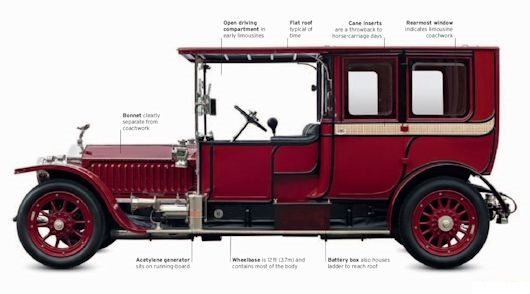 Beautifully engineered, it offered unparalleled smoothness and refinement for the era, together with effortless high performance. One respected critic described the 40/50 hp as being "a triumph of workmanship over design"-a cruel but not wholly inaccurate assessment. The meticulous quality of engineering insisted upon by the perfectionist Henry Royce was what established the marque's reputation. Many items were created in-house, not least of which a Royce-designed distributor and carburetor.
When electric starting was introduced in 1919, Royce also designed his own starter and dynamo. But the engine was conservative in its construction, as was the chassis-which only gained front brakes in 1924. This was part of a servo-assisted mechanism that was notably efficient.The 40/50 hp was sufficiently robust to have formed the basis for an armored car during and after World War I. Its chassis was donated to the Phantom I that replaced it in 1925. This was in effect a "Silver Ghost" with a new overhead-valve engine.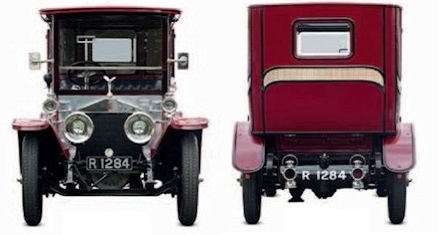 Classical grace
The front of the Silver Ghost is dominated by the "tombstone" radiator shell; this never received the Palladian vertical slats later associated with Rolls-Royces. The "letter-box" slot in the windshield hinges open for visibility in stormy weather. The high roof accommodates gentlemen wearing top hats-and ladies with the generously sized headwear of Edwardian times.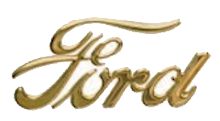 Pioneer motorist and automobile dealer Charles Rolls was highly impressed by the first cars built by electrical engineer Henry Royce. They decided, in 1904, to market the vehicles as Rolls-Royces. This arrangement continued after Rolls's death in a flying accident in 1910.
Rolls Royce exterior
1. "Spirit of Ecstasy" mascot features from 1911
2. Wooden "artillery" wheels have detachable rims
3. Acetylene lights used until 1919
4. Fuel-pump settings are manually adjustable
5. Exterior handle is a throwback to horse-drawn era
6. Wonderfully extravagant boa-constrictor horn
7. Lights display masterful tinsmithery
The 40/50 hp's body was made to the customer's order by external coachbuilders. There was no such thing as a "standard" style, and coachwork ranged from sober open tourers to extravagant limousines made for various foreign potentates. From 1920 the Silver Ghost was also assembled with U.S.-made bodies in Springfield, Massachussetts. This particular car dates from 1912, and it carries an accurate modern-day copy-created over 14 years-of a body by coachbuilder Rothschild.
Rolls Royce interior
8. West of England cloth trims at rear
9. Jump seat
10. Overhead light
11. Vanity box with clock
12. Detailing around door pull worthy of an Edwardian drawing room
13. Intercom to chauffeur
14. Fuel mixture, ignition timing, and engine speed controlled from steering wheel
15. Dashboard is spare and functional
16. Mileage gauge
17. Close-set gear lever and handbrake
The rear compartment is a magnificent reproduction of the Rothschild original. Flamboyant interiors were often found on the 40/50 hp. In 1921 an Indian maharajah commissioned two cars with interior fittings in gold, silver, and mother-of-pearl, and trimmed in mauve silk: The cost was L 6,000 a car, at a time when a humble Morris started at L 299.
Under the hood Rolls Royce
18. Located below the distributor, the governor maintains constant engine revs
19. Sidevalve six-cylinder engine has fixed cylinder heads, dual ignition
The 40/50 hp engine mixes the conservative and the advanced. The use of two three-cylinder blocks was archaic (by post-World War I standards), as were the fixed cylinder heads and exposed valve gear. But the drilled and fully pressure-fed crankshaft-with seven main bearings-put Rolls-Royce ahead of the game. Initially 7,036 cc, engine capacity was increased to 7,410 cc in 1909. Output rose over the years from an estimated 48 bhp to approximately 75 bhp on later cars.