The battle for the world land speed record entered an extraordinary phase in 1922 when aircraft engines became the favored method to push the boundaries of speed. The 1,118ci (18,322cc), V12 Sunbeam Manitou engine saw active service in only one airplane before being used in powerboats. In 1920, however, an engine was installed in a Sunbeam chassis, to produce a car with record-breaking capabilities.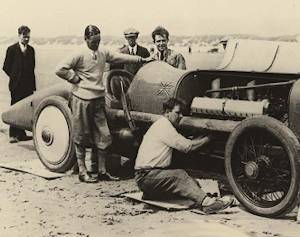 Sunbeam 350HP BLUEBIRD 1924
YEAR REVEALED 1924
PLACE OF ORIGIN Wolverhampton, UK
HISTORICAL STATUS speed record car
ENGINE V12-cylinder, 1,118ci (18,322cc)
MAXIMUM POWER 350bhp
LAYOUT front-mounted engine driving the rear wheels
BODYWORK single-seater racer
TOP SPEED 152mph (245kph)
NUMBER BUILT one
Redesigned to produce 350hp-50 more than in aircraft form-the engine was given shaft-drive to the rear wheels-much safer than the dangerous chains that could sometimes break and injure the driver. In 1922, Kenelm Lee Guinness made land speed history at Brooklands when he drove the Sunbeam to a record-breaking 133.75mph (215.25kph).
Next it was the turn of dedicated speed freak Malcolm Campbell, who touched 138mph (222kph) at Saltburn, North Yorkshire, although a faulty stopwatch prevented him from becoming the fastest driver on earth. However, Campbell was smitten with the car and persuaded Sunbeam to sell it to him. He painted it blue and named it "Bluebird."
Campbell eventually took the land speed record after the car had received crucial aerodynamic modifications: in September 1924, at Pendine Sands in South Wales, he achieved the official time of 146.16mph (235.22kph). Later, Campbell would use the Sunbeam to become the first man to drive at a speed of more than 150mph (240kph).