Tasco is an acronym for The American Sportscar Company, and the car pictured here shows the only example it ever managed to produce. The basis of the machine was a shortened 1948 Mercury chassis with a souped-up V8 engine. The Tasco featured an enclosed cockpit like that of a light aircraft.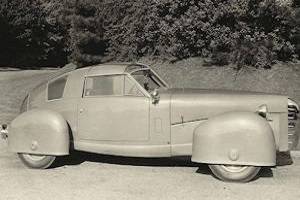 Tasco 1948
YEAR REVEALED 1948
PLACE OF ORIGIN Hartford, Connecticu
HISTORICAL STATUS prototype
ENGINE V8-cylinder, 239ci (3,917cc)
MAXIMUM POWER 100bhp-plus
LAYOUT front-mounted engine driving the rear wheels
BODYWORK two-door two-seater coupé
TOP SPEED unknown
NUMBER BUILT one
Above the heads of driver and passenger were lift-out glass panels in the first-ever rendering of the "T-bar" roof (first seen in production in the Chevrolet Corvette of 1968). The castmagnesium wheels were fully enclosed in their own fairings. The front two were made from fiberglass and turned with the wheels. The car was created by a consortium of businessmen who hoped to sell replicas to wealthy sportsmen who would then campaign them in European-style sports car races held in New York State.
They employed Gordon Buehrig to design it, an extremely talented stylist who had worked all over the American car industry but was most closely associated with the 1935 Auburn Speedster and 1936 Cord 810. Through his contacts, the bodywork was built by Derham, one of America's most respected luxury car body builders.
However, Buehrig was never happy with the Tasco, saying it was designed by a committee (the investors). He compared it to the failed Edsel as another lame duck. No doubt, car and design students today would disagree. Happily it can now be seen at the Auburn Cord Duesenberg Museum in Auburn, Indiana.