It is incredible to think that, in 1934, just about the most futuristic car in the world hailed not from Germany or the US, but from Czechoslovakia. It was the centerpiece for the proud nation's talents at the Berlin Auto Salon that year, and narrowly beat Chrysler's Airflow into production as the world's first customer-ready, scientifically-streamlined motor car.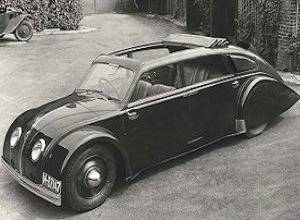 Tatra Type 77 1934
YEAR REVEALED 1934
PLACE OF ORIGIN Koprivnice, Czechoslovakia
HISTORICAL STATUS production car
ENGINE V8-cylinder, 181–206ci (2,968–3,377cc)
MAXIMUM POWER 73bhp
LAYOUT rear-mounted engine driving the rear wheels
BODYWORK four-door five-seater sedan
TOP SPEED 93mph (150kph)
NUMBER BUILT 255
The car came about thanks to the personal vision of Tatra's widely admired Austrian chief engineer Hans Ledwinka. It brought together his expertise in air-cooled engines and intelligent chassis design, with a newfound enthusiasm for aerodynamics. At its core was a welded box-section chassis, a sort of metal backbone with a forked extension at the back to cradle the air-cooled, overhead-camshaft V8 engine designed specially for this car.
The entire powerpack, gearbox included, could be easily unbolted and detached for repairs. With the mechanical elements at the rear, Ledwinka could concentrate on the T77's excellent streamlining-the first in a long line of luxury Czech cars. It had a small frontal area, a windshield angled at 45 degrees, and carefully sculpted air intakes on the body sides and on the long, tapering tail, to cool the engine as it drove along. The later T77A, with a bigger engine, five seats instead of six, and a steering wheel on the right instead of the original central steering position, was given a centrally positioned tailfin to aid high-speed stability-a highly distinctive feature.