Through innovation, technical excellence, and competition-led promotion, Audi has become a giant of the motor industry. Yet this now-famous German name was dormant for around 20 years after World War II. Since finding a home under the Volkswagen umbrella, Audi has come to epitomize Germany's pioneering spirit.
The man behind AUDI was a German engineer and industrialist named August Horch, who began manufcaturing cars under the Horch name in 1901. In 1909, following a disagreement between Horch and the other directors of his Zwickau-based firm, Horch left the company.
The next year Horch established another business, also in Zwickau, and began building cars under the Audi banner. Horch called it Audi because he was prohibited from using his own surname by the terms of the severance deal with his former firm. Audi is a Latinized version of Horch, which means "hark" or "listen" in German.
Recognizing the promotional value of beating his rivals in the public arena of motor sport, the astute August Horch began entering his cars in long-distance races and other events, including Austria's grueling Alpine Trial from 1911 through 1914. Audi's aluminum-bodied, 3,560 cc Typ C entries completed the 1913 event without penalties, and Audi took home the competition's team.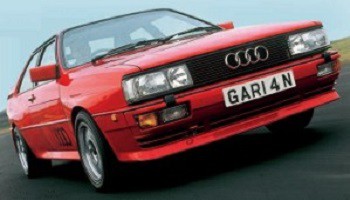 Sensational Audi quattro
With its sharp-edged styling and powerful engine, the quattro was an immediate success. The permanent four-wheel-drive system gave excellent traction and cornering, making the quattro an ideal rally car.
The first Audi product was the 2,612 cc Typ A 10/22PS, with other, larger-engined cars following soon after.
After this famous victory, the powerful Typ C became known as the Alpensieger (Alpine Victor). Although still a fledgling concern, Audi was already at the forefront of automotive technology, being one of the first German marques to adopt electric lighting and starter motors for its cars in 1913.
After shepherding Audi through World War I, when it made trucks for the German army, Horch left in 1920 to work for the Ministry of Economics. A consortium of directors subsequently led the company, but its habit of producing overambitious, expensive-to-make, and slow-selling products took its toll.
In 1928 Jorgen Skafte Rasmussen, a Danish-born engineer, acquired a controlling stake in Audi. Rasmussen had been making his KW motorcycles since 1920, and he was already a long way down the road to launching his first "light car." However, he needed a suitable factory for car assembly, and this was his main motivation for taking over Audi. New products were launched, but most lacked originality.
The four-cylinder Typ P, for example, combined a Peugeot 201 engine with a chassis and body made by DKW. As the company began to focus on DKW-branded cars, the Audi marque became marginalized; just 77 Audis were made in 1931, and 22 the year after. In the midst of the economic slump of the early 1930s, a deal was brokered between Audi, DKW, Horch, and another marque, Wanderer, to form the Auto Union conglomerate.
From mid-1932 this broad-based concern had blanket coverage of the German car market, with bargainpriced DKWs, mid-range Audi and Wanderer models, and prestigious Horch sedans and limousines. Predictably, crossbreeding was rife-but not always profitable.
The 1933 Audi Front, for example, had a front-wheel-drive Wanderer engine, DKW running gear, and styling that aped Horch products; it was not a success. From April 1940 production was given over entirely to military vehicles to aid Germany's war effort.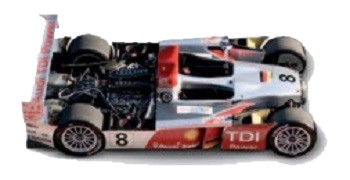 Audi R10 TDI
Winner at Le Mans from 2006 to 2008, the R10 used a longitudinally mounted, 5,499 cc, V12 aluminum diesel engine with two turbochargers.
After the division of Germany at the end of World War II, the Auto Union group lay in the Sovietcontrolled Eastern Zone, and the names Audi, Horch, and Wanderer disappeared from the market, although Horch did make a brief comeback as an East German brand in the 1950s.
A new company named Auto Union was founded in West Germany, at first supplying spare parts, but later manufacturing cars under the Auto Union and DKW marques. Daimler-Benz bought a majority shareholding in Auto Union in 1958 and centered production on low-cost, two-strokeengined cars. By the time Volkswagen took control in late 1964, the range was outmoded and unsophisticated.
Eager to compete with BMW as an aspirational brand, Volkswagen put its new 1,696 cc, four-cylinder engine into the existing DKW F102 sedan and relaunched it as the Audi 60-the first Audi of the post-war era. The Audi renaissance grew steadily, and in 1969 Volkswagen merged it with another of its brands, NSU, to form Audi NSU Auto Union AG.
Audi products initially included several rebranded Volkswagens, and its reputation for innovation was only truly established with the launch of the quattro coupé in 1980. This handsome machine featured permanent fourwheel drive (then still quite a novelty for a mainstream manufacturer) and a turbocharged, five-cylinder engine.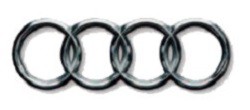 The quattro caused a furore, even more so when it began to clean up in rallying. It dominated the sport from 1982 to 1984, with legendary drivers such as Hannu Mikkola, Stig Blomqvist, and Walter Rohrl all winning world drivers' titles. And the victories kept on coming: Audis won in the United States at the Pikes Peak International Hill Climb and the TransAm championship, in addition to taking touring-car titles in France, Britain, and Germany.
Audi increasingly took on a role as the harbinger of new technologies and looks within the Volkswagen group, including pioneering the use of aluminum for its large A8 sedan of 1994 and introducing a bold new styling language with products such as the TT of 1998. More recently, Audi has made its mark in endurance racing, claiming its first win at the Le Mans 24-hour race, France, in 2000. Six years later Audi became the first marque to win this classic event with a diesel-powered car, the R10 TDI, in line with its mission statement to showcase new and alternative technologies in competition.