Today's Bentleys are some of the most lavish cars available, with a decades-long reputation as the pinnacle of the British motor car. The company's founder, Walter Owen Bentley (known as "W.O."), was an engineer who was concerned about engine performance and reliability when he began his own company in London in 1919.
Born in 1888, W.O. BENTLEY was apprenticed in building locomotives for the Great Northern Railway. He joined his brother in importing DFP cars from France in 1912, and his engineering background led him to modify the engines with aluminum pistons and a modified crankshaft. This made them race winners, and inspired Bentley to become an automaker himself in 1919.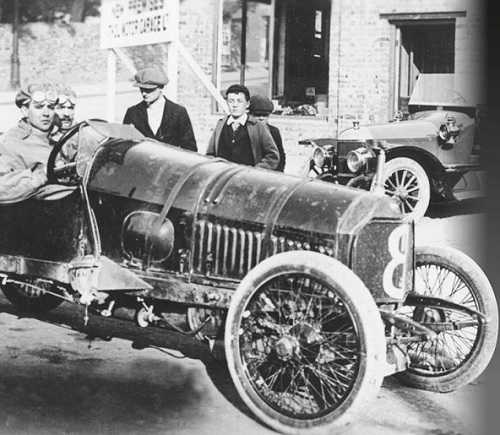 By 1921 the first car, costing $1,500 (£1,050), was delivered. It was the first of the 3 liters, proving a revelation in performance and mechanical refinement at a time when the typical rival was noisy and crude. It developed 80 bhp and could sustain speeds of 80 mph (129 km/h), which was quite amazing for the time in a production vehicle.
Not surprisingly, it was among Europe's most desirable sports cars. Bentleys set speed records from Brooklands to Indianapolis and were raced widely, culminating in five outright victories in the Le Mans 24-hour race in 1924, 1927, 1928, 1929, and 1930. Many of the wealthy racing drivers who loved Bentleys were part of a social set known as the "Bentley Boys." One of these, Woolf Barnato, took control of the struggling Bentley Motors in 1926, and sanctioned a supercharged model. W.O. did not approve of it but, as he was now merely an employee, he was unable to veto the move.
Barnato was deeply involved in everything Bentley, and personally won at Le Mans in 1928 and 1929. Driving a Bentley Speed Six, he famously raced the "Blue Train" express between Cannes and Calais in 1930, easily beating his track-bound competitor to win a $150 (£100) bet.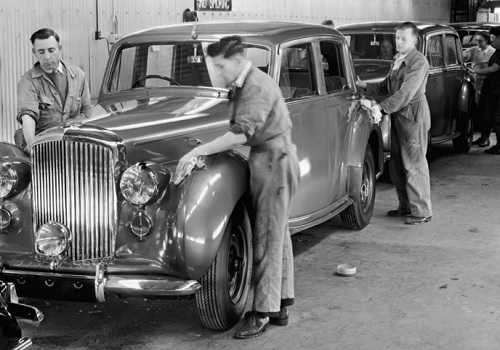 The "vintage" era of Bentleys was finished by the aftereffects of the Wall Street Crash in 1929, and in 1931 the bankrupt company was bought by Rolls-Royce. Manufacturing was shifted to Derby, and the new Rolls-based Bentley 3.5 liter was sold as the "Silent Sports Car." In 1939, the marque moved to the Rolls-Royce plant in Cheshire, England launching the Bentley Mk VI, the new mainstay of Rolls-Royce's output, in 1946. It was the first model to have a "standard steel" body (all cars up to that time had been clothed by outside coachbuilders, as were all expensive cars) on its separate chassis.
In 1952 came the return of a really sporting Bentley, the R-type Continental. With speeds of 120 mph (193 km/h), it had a special chassis and ultramodern aerodynamic bodywork. After that, however, Bentleys entered a very long period in which they were merely Rolls-Royces by another name, which was the case with the S series (Rolls-Royce Silver Cloud), T series (Silver Shadow), Mulsanne (Silver Spirit), and Arnage (Silver Seraph).
W.O. Bentley himself died in 1971, but the first stirrings of a Bentley revival came in 1982, when the Mulsanne received a performance-boosting turbocharger. Then came the Continental R coupe of 1991, the first Bentley for decades for which there was no Rolls version.
In 1998, Bentley and Rolls-Royce were split up and sold off, with Volkswagen paying $712 million (£500 million) to obtain control of Bentley and the historic Crewe factory. Volkswagen wasted little time in rejuvenating its new subsidiary, taking advantage of shared technology that was available from its other divisions, including Audi.

As a result, a new Le Mans team scored a third overall place at Le Mans in 2001, and yet another breakthrough came when the company created a custom State Limousine for ceremonial use by Queen Elizabeth II.
Bentley's image received another boost two years later. A sophisticated new Continental GT model, with an unusual, 6-liter, W12-arrangement engine with twin turbochargers, was launched into the market. This model massively increased sales around the world; it is the mainstay of the marque in a plethora of different versions.