Preston T. Tucker's character was something between dreamer and opportunist. He'd been an office boy at Cadillac, a car salesman, and partner in an Indianapolis racing car business before deciding to revolutionize car design in post-war America with an all-new model that was fast, stylish, and safe.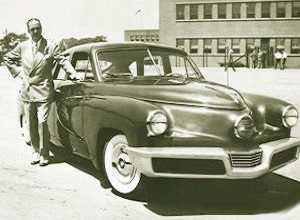 Tucker 48 Torpedo 1947
YEAR REVEALED 1947
PLACE OF ORIGIN Chicago, Illinois
HISTORICAL STATUS production car
ENGINE flat six-cylinder, 335ci
MAXIMUM POWER 166bhp
LAYOUT rear-mounted engine driving the rear wheels
BODYWORK four-door five-seater sedan
TOP SPEED 121mph (195kph)
NUMBER BUILT 51
Early ideas in 1945 were for a streamlined coupé with a rear-mounted, 592ci (9,700cc), air-cooled engine that used two torque converters to the rear wheels instead of a gearbox. It had seatbelts, a padded dashboard, and a windshield that popped out in a crash. When that proved unfeasible, his team went for a streamlined four-door sedan, with a Franklin air-cooled flat-six engine in the back.
The seatbelts were dropped, because it was felt they implied the car was unsafe, and so were swiveling headlamps, disc brakes, and a central driving position. But the independent suspension and padded dashboard remained. The car's ongoing evolution meant a switch to water-cooling, and the finalized version proved rapid, with a 121mph (195kph) top speed despite its considerable bulk.
In 1946, Tucker acquired the then largest factory building in the world, a former Chicago aircraft plant, to make his car. But public goodwill evaporated when US financial regulators alleged fraud for raising finance from dealers and customers while changing the design of the car they had committed to. His name was cleared, but the Tucker Corporation went into liquidation.