Until its demise in 2006, TVR (from founder TreVoR Wilkinson) manufactured powerful sports cars renowned for their individualistic styling.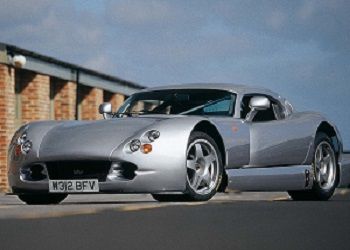 TVR Speed 12 2000
YEAR REVEALED 2000
PLACE OF ORIGIN Blackpool, Lancashire, United Kingdom
HISTORICAL STATUS prototype
ENGINE V12-cylinder, 472ci (7,730cc)
MAXIMUM POWER 800–960bhp estimated
LAYOUT front-mounted engine driving the rear wheels
BODYWORK two-door, two-seater coupé
TOP SPEED 240mph (386kph) (potential)
NUMBER BUILT one
At the heart of the TVR Speed 12 was a landmark TVR engine, a 48-valve V12, with a steel block created by joining two six-cylinder engines together on a single crankshaft. With a six-speed gearbox driving the rear wheels, it was installed in a modified TVR race track-only Tuscan chassis.
Known as Project 7/12 (7 liters and 12 cylinders), it made an enormous impact at the 1996 British motor show. On the track, the TVR also gave a stunning performance, allegedly hitting 60mph (97kph) in under 3 seconds. But the car was a brute to drive, immensely demanding at speed. TVR attempted to tame the beast, and by 2000, a new car was ready.
Weighing just 1 ton (1,000kg) to keep the 231mph (372kph) McLaren F1 within its gunsights, it was renamed Speed 12, and restyled to resemble a pumped-up TVR Cerbera with aerodynamic additions. At £188,000, it would have been the costliest TVR, if company owner Peter Wheeler hadn't axed the car because he felt it was too powerful.