The late John Weitz was among the first men to appear on the International Best-Dressed List in 1967, one of many career highlights that appeared to make his an effortlessly glamorous life.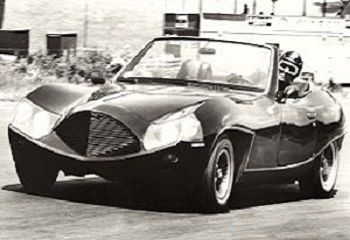 Weitz X600 1979
YEAR REVEALED 1979
PLACE OF ORIGIN New York and Wootton, Oxfordshire, UK
HISTORICAL STATUS prototype
ENGINE V8-cylinder, 302ci (4,949cc)
MAXIMUM POWER unknown
LAYOUT front-mounted engine driving the rear wheels
BODYWORK two-door, two-seater roadster
TOP SPEED unknown
NUMBER BUILT one
Designer of men's casual clothes, author of best-selling novels, photographer, and ex-US Army Intelligence officer, he used to crisscross the planet presiding over his fashion business. Berlin-born, London-educated Weitz was a colorful character who couldn't fail to come up with a colorful car.
For the frame of his Weitz X600 roadster, he took the engine and subframe from a Chevrolet Camaro Z28 chassis and welded it into a bespoke chassis. The swoopy X600 was aluminum clothed and resembled an Austin-Healey 3000 crossed with the Batmobile (emulating the latter's glossy black paintwork with red highlights).
Weitz was no shrinking violet; he relished driving his powerful Allard J2X Le Mans racer direct from the racetrack to dinner in the Hamptons, his tuxedo and dress shirt grubby from the journey. He did the X600 design work in his office at 600 Madison Avenue, and a quarter-scale model was translated into the real thing by craftsmen working at Mallalieu, British artisan makers of vintage Bentley copies.
The finished X600 was then air-freighted back to New York and greeted by huge publicity. But when Mallalieu was wound up after its founder's death, the X600 was stymied, and the sole example wound up forgotten in a Cleveland aircraft museum.