For some moviegoers, the real star of Goldfinger, James Bond's third big movie adventure, wasn't Sean Connery but a silver Aston Martin DB5. Bond's most impressive on-screen gadget, the Aston all but stole the show when Bond's captor was sent hurtling through the roof in an ejector seat. Replicas of the "Goldfinger" DB5 toured the world, drawing huge crowds years after the 1964 film had left theaters.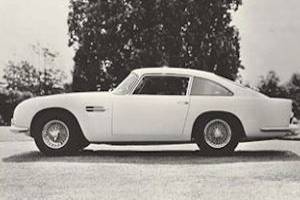 Aston Martin DB5 1963
YEAR REVEALED 1963
PLACE OF ORIGIN Newport Pagnell, Buckinghamshire, UK
HISTORICAL STATUS production car
ENGINE six-cylinder, 244ci (3,995cc)
MAXIMUM POWER 314bhp
LAYOUT front-mounted engine driving the rear wheels
BODYWORK two-door four-seater coupé and convertible
TOP SPEED 150mph (241kph)
NUMBER BUILT 1,063
The fifth Aston wasn't a new car but a refinement of the 226ci (3,700cc) DB4 first seen in 1958. Handcrafted in aluminum over a tubular steel frame, with a bigger, 244ci (3,995cc) version of the twin-camshaft six-cylinder engine-offering 240bhp-and a five-speed ZF gearbox, Aston Martin claimed more punch with longer legs. Top speed was 140mph (225kph)-nearer 150mph (241kph) from the tuned "Vantage" engine-with meaty acceleration to match. The DB5 kept pace with technical developments, rather than breaking new ground.
Disc brakes were fitted all round but independent rear suspension was eschewed for a traditional solid back axle: hence the DB5 was happier on fast main roads than being hurried through tight corners. Faired-in headlights updated the aerodynamics and the inside featured rich leather upholstery, electric windows, and a push-button radio. As well as the fastback, Aston built the swish Volante convertible, and even 12 "shooting brake" DB5s. The DB5 is one of the most memorable Aston Martins ever.