After losing his job as technical director of German carmaker Steyr in 1930, the renowned Dr. Ferdinand Porsche finally decided to open his own car engineering consultancy. His timing was unfortunate because the world was reeling from economic recession, but between commissions, Porsche and his chief designer Karl Rabe weren't idle.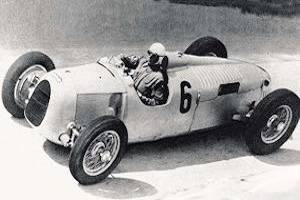 Auto Union Type C 1935
YEAR REVEALED 1935
PLACE OF ORIGIN Zwickau, Germany
HISTORICAL STATUS Grand Prix racing car
ENGINE V16-cylinder, 367ci (6,006cc)
MAXIMUM POWER 520bhp
LAYOUT mid-mounted engine driving the rear wheels
BODYWORK single-seater racer
TOP SPEED 211mph (340kph)
NUMBER BUILT  30 different cars raced, but some were evolutions rather than completely new models
They decided to design the ultimate racing car engine, a 262ci (4,300cc) V16 with two cylinder blocks angled at 45 degrees and 32 valves, despite having no client for it. The Auto Union company was created in 1932 by the merger of Audi, DKW, Horch and Wanderer, and this new organization decided to promote itself through Grand Prix racing. The newly installed German chancellor, Adolf Hitler, pledged to back the venture, and Porsche was contracted to design the new car to go with his existing engine for the 1934 season.
The car was mid-engined with all-independent suspension and a fuel tank located between driver and engine. The layout anticipated the prevalent Grand Prix format by over 25 years. The Type-C was the third and most powerful evolution of the Auto Union racing car. Its supercharged V16 was now 367ci (6,006cc), and former handling problems were addressed with a ZF limited-slip differential. The car won 6 of the 12 races that season and Bernd Rosemeyer (killed in a stream-lined Type-C during a 1938 record assault) was crowned European champion. In fact, the Type-C won 33 victories from 59 races.