(b. Jan. 17 [Jan. 6, Old Style], 1706, Boston, Mass. [now in U.S.]-d. April 17, 1790, Philadelphia, Pa., U.S.)
Benjamin Franklin was an American printer and publisher, author, inventor and scientist, and diplomat. One of the foremost of the Founding Fathers, Franklin helped draft the Declaration of Independence and was one of its signers, represented the United States in France during the American Revolution, and was a delegate to the Constitutional Convention. He made important contributions to science, especially in the understanding of electricity, and is remembered for the wit, wisdom, and elegance of his writing.
Early Life
Ben Franklin was born the 10th son of the 17 children of a man who made soap and candles, one of the lowliest of the artisan crafts. In an age that privileged the firstborn son, Franklin was, as he tartly noted in his Autobiography, "the youngest Son of the youngest Son for five Generations back." He learned to read very early and had one year in grammar school and another under a private teacher, but his formal education ended at age 10. At 12 he was apprenticed to his brother James, a printer. His mastery of the printer's trade, of which he was proud to the end of his life, was achieved between 1718 and 1723. In the same period he read tirelessly and taught himself to write effectively.
His first enthusiasm was for poetry, but, discouraged with the quality of his own, he gave it up. Prose was another matter. Young Franklin discovered a volume of The Spectator-featuring Joseph Addison and Sir Richard Steele's famous periodical essays, which had appeared in England in 1711–12-and saw in it a means for improving his writing. He read these Spectator papers over and over, copied and recopied them, and then tried to recall them from memory.
He even turned them into poetry and then back into prose. Franklin realized, as all the Founders did, that writing competently was such a rare talent in the 18th century that anyone who could do it well immediately attracted attention. "Prose writing" became, as he recalled in his Autobiography, "of great Use to me in the Course of my Life, and was a principal Means of my Advancement."
In 1721 James Franklin founded a weekly newspaper, the New-England Courant, to which readers were invited to contribute. Benjamin, now 16, read and perhaps set in type these contributions and decided that he could do as well himself. In 1722 he wrote a series of 14 essays signed "Silence Dogood" in which he lampooned everything from funeral eulogies to the students of Harvard College. For one so young to assume the persona of a middle-aged woman was a remarkable feat, and Franklin took "exquisite Pleasure" in the fact that his brother and others became convinced that only a learned and ingenious wit could have written these essays.
Late in 1722 James Franklin got into trouble with the provincial authorities and was forbidden to print or publish the Courant. To keep the paper going, he discharged his younger brother from his original apprenticeship and made him the paper's nominal publisher. New indentures were drawn up but not made public. Some months later, after a bitter quarrel, Benjamin secretly left home, sure that James would not "go to law" and reveal the subterfuge he had devised.
Youthful Adventures
Failing to find work in New York City, Franklin at age 17 went on to Quaker-dominated Philadelphia, a much more open and religiously tolerant place than Puritan Boston. One of the most memorable scenes of the Autobiography is the description of his arrival on a Sunday morning, tired and hungry.
Finding a bakery, he asked for three pennies' worth of bread and got "three great Puffy Rolls." Carrying one under each arm and munching on the third, he walked up Market Street past the door of the Read family, where stood Deborah, his future wife. She saw him and "thought I made, as I certainly did, a most awkward ridiculous Appearance."
A few weeks later he was rooming at the Reads' and employed as a printer. By the spring of 1724 he was enjoying the companionship of other young men with a taste for reading, and he was also being urged to set up in business for himself by the governor of Pennsylvania, Sir William Keith. At Keith's suggestion, Franklin returned to Boston to try to raise the necessary capital.
His father thought him too young for such a venture, so Keith offered to foot the bill himself and arranged Franklin's passage to England so that he could choose his type and make connections with London stationers and booksellers. Franklin exchanged "some promises" about marriage with Deborah Read and, with a young friend, James Ralph, as his companion, sailed for London in November 1724, just over a year after arriving in Philadelphia. Not until his ship was well out at sea did he realize that Governor Keith had not delivered the letters of credit and introduction he had promised.
In London Franklin quickly found employment in his trade and was able to lend money to Ralph, who was trying to establish himself as a writer. The two young men enjoyed the theatre and the other pleasures of the city, including women. While in London, Franklin wrote A Dissertation on Liberty and Necessity, Pleasure and Pain (1725), a Deistical pamphlet inspired by his having set type for William Wollaston's moral tract, The Religion of Nature Delineated.
Franklin argued in his essay that since human beings have no real freedom of choice, they are not morally responsible for their actions. This was perhaps a nice justification for his self-indulgent behaviour in London and his ignoring of Deborah, to whom he had written only once. He later repudiated the pamphlet, burning all but one of the copies still in his possession.
By 1726 Franklin was tiring of London. He considered becoming an itinerant teacher of swimming, but, when Thomas Denham, a Quaker merchant, offered him a clerkship in his store in Philadelphia with a prospect of fat commissions in the West Indian trade, he decided to return home.
Achievement of Security and Fame
Denham died, however, a few months after Franklin entered his store. The young man, now 20, returned to the printing trade and in 1728 was able to set up a partnership with a friend. Two years later he borrowed money to become sole proprietor.
His private life at this time was extremely complicated. Deborah Read had married, but her husband had deserted her and disappeared. One matchmaking venture failed because Franklin wanted a dowry of £100 to pay off his business debt. A strong sexual drive, "that hard-to-begovern'd Passion of Youth," was sending him to "low Women," and he thought he very much needed to get married. His affection for Deborah having "revived," he "took her to Wife" on Sept. 1, 1730.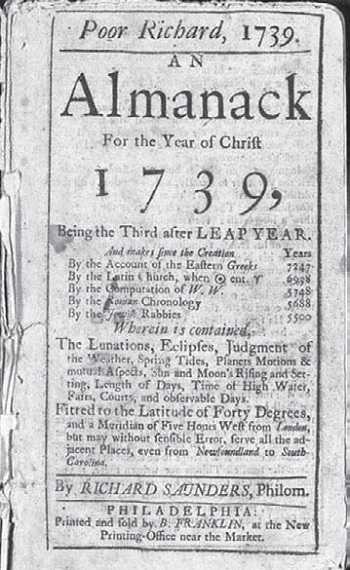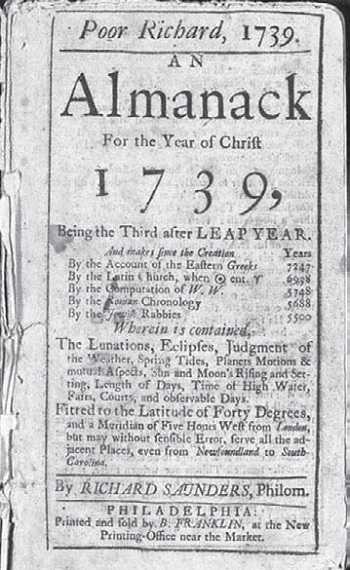 At this point Deborah may have been the only woman in Philadelphia who would have him, for he brought to the marriage an illegitimate son, William, just borne of a woman who has never been identifi ed. Franklin's common-law marriage lasted until Deborah's death in 1774. They had a son, Franky, who died at age four, and a daughter, Sarah, who survived them both. William was brought up in the household and apparently did not get along well with Deborah.
Franklin and his partner's first coup was securing the printing of Pennsylvania's paper currency. Franklin helped get this business by writing A Modest Enquiry into the Nature and Necessity of a Paper Currency (1729), and later he also became public printer of New Jersey, Delaware, and Maryland. Other moneymaking ventures included the Pennsylvania Gazette, published by Franklin from 1729 and generally acknowledged as among the best of the colonial newspapers, and Poor Richard's almanac, printed annually from 1732 to 1757.
Despite some failures, Franklin prospered. Indeed, he made enough to lend money with interest and to invest in rental properties in Philadelphia and many coastal towns. He had franchises or partnerships with printers in the Carolinas, New York, and the British West Indies. By the late 1740s he had become one of the wealthiest colonists in the northern part of the North American continent.
As he made money, he concocted a variety of projects for social improvement. In 1727 he organized the Junto, or Leather Apron Club, to debate questions of morals, politics, and natural philosophy and to exchange knowledge of business affairs. The need of Junto members for easier access to books led in 1731 to the organization of the Library Company of Philadelphia. Through the Junto, Franklin proposed a paid city watch, or police force. A paper read to the same group resulted in the organization of a volunteer fire company.
In 1743 he sought an intercolonial version of the Junto, which led to the formation of the American Philosophical Society. In 1749 he published Proposals Relating to the Education of Youth in Pennsilvania; in 1751 the Academy of Philadelphia, from which grew the University of Pennsylvania, was founded. He also became an enthusiastic member of the Freemasons and promoted their "enlightened" causes.
Although still a tradesman, he was picking up some political offices. He became clerk of the Pennsylvania legislature in 1736 and postmaster of Philadelphia in Prior to 1748, though, his most important political service was his part in organizing a militia for the defense of the colony against possible invasion by the French and the Spaniards, whose privateers were operating in the Delaware River.
In 1748 Franklin, at age 42, had become wealthy enough to retire from active business. He took off his leather apron and became a gentleman, a distinctive status in the 18th century. Since no busy artisan could be a gentleman, Franklin never again worked as a printer; instead, he became a silent partner in the printing firm of Franklin and Hall, realizing in the next 18 years an average profit of over £600 annually.
He announced his new status as a gentleman by having his portrait painted in a velvet coat and a brown wig; he also acquired a coat of arms, bought several slaves, and moved to a new and more spacious house in "a more quiet Part of the Town." Most important, as a gentleman and "master of [his] own time," he decided to do what other gentlemen did-engage in what he termed "Philosophical Studies and Amusements."
Scientific Studies
In the 1740s electricity was one of these curious amusements. It was introduced to Philadelphians by an electrical machine sent to the Library Company by one of Franklin's English correspondents. In the winter of 1746–47, Franklin and three of his friends began to investigate electrical phenomena. Franklin sent piecemeal reports of his ideas and experiments to Peter Collinson, his Quaker correspondent in London.
Since he did not know what European scientists might have already discovered, Franklin set forth his findings timidly. In 1751 Collinson had Franklin's papers published in an 86-page book titled Experiments and Observations on Electricity. In the 18th century the book went through five English editions, three in French, and one each in Italian and German.
Franklin's fame spread rapidly. The experiment he suggested to prove the identity of lightning and electricity was apparently first made in France before he tried the simpler but more dangerous expedient of flying a kite in a thunderstorm. But his other findings were original. He created the distinction between insulators and conductors. He invented a battery for storing electrical charges.
He coined new English words for the new science of electricity-conductor, charge, discharge, condense, armature, electrify, and others. He showed that electricity was a single "fluid" with positive and negative or plus and minus charges and not, as traditionally thought, two kinds of fluids. And he demonstrated that the plus and minus charges, or states of electrification of bodies, had to occur in exactly equal amounts-a crucial scientific principle known today as the law of conservation of charge.
Public Service in Later Life
Franklin was not only the most famous American in the 18th century but also one of the most famous figures in the Western world of the 18th century; indeed, he is one of the most celebrated and influential Americans who has ever lived. Although one is apt to think of Franklin exclusively as an inventor, as an early version of Thomas Edison, which he was, his 18th-century fame came not simply from his many inventions but, more important, from his fundamental contributions to the science of electricity. If there had been a Nobel Prize for Physics in the 18th century, Franklin would have been a contender.
Enhancing his fame was the fact that he was an American, a simple man from an obscure background who emerged from the wilds of America to dazzle the entire intellectual world. Most Europeans in the 18th century thought of America as a primitive, undeveloped place full of forests and savages and scarcely capable of producing enlightened thinkers.
Yet Franklin's electrical discoveries in the mid-18th century had surpassed the achievements of the most sophisticated scientists of Europe. Franklin became a living example of the natural untutored genius of the New World that was free from the encumbrances of a decadent and tired Old World-an image that he later parlayed into French support for the American Revolution.
Despite his great scientific achievements, however, Franklin always believed that public service was more important than science, and his political contributions to the formation of the United States were substantial. He had a hand in the writing of the Declaration of Independence, contributed to the drafting of the Articles of Confederation-America's first national constitution-and was the oldest member of the Constitutional Convention of 1787 that wrote the Constitution of the United States of America in Philadelphia.
More important, as diplomatic representative of the new American republic in France during the Revolution, he secured both diplomatic recognition and financial and military aid from the government of Louis XVI and was a crucial member of the commission that negotiated the treaty by which Great Britain recognized its former 13 colonies as a sovereign nation. Since no one else could have accomplished all that he did in France during the Revolution, he can quite plausibly be regarded as America's greatest diplomat.
Equally significant perhaps were Franklin's many contributions to the comfort and safety of daily life, especially in his adopted city of Philadelphia. No civic project was too large or too small for his interest. In addition to his lightning rod and his Franklin stove (a wood-burning stove that warmed American homes for more than 200 years), he invented bifocal glasses, the odometer, and the glass harmonica (armonica).
He had ideas about everything-from the nature of the Gulf Stream to the cause of the common cold. He suggested the notions of matching grants and Daylight Saving Time. Almost single-handedly he helped to create a civic society for the inhabitants of Philadelphia. Moreover, he helped to establish new institutions that people now take for granted: a fire company, a library, an insurance company, an academy, and a hospital.
Probably Franklin's most important invention was himself. He created so many personas in his newspaper writings and almanac and in his posthumously published Autobiography that it is difficult to know who he really was. Following his death in 1790, he became so identified during the 19th century with the persona of his Autobiography and the Poor Richard maxims of his almanac-e.g., "Early to bed, early to rise, makes a man healthy, wealthy, and wise"-that he acquired the image of the self-made moralist obsessed with the getting and saving of money. Consequently, many imaginative writers, such as Edgar Allan Poe, Henry David Thoreau, Herman Melville, Mark Twain, and D.H. Lawrence, attacked Franklin as a symbol of America's middle-class moneymaking business values.
Indeed, early in the 20th century the famous German sociologist Max Weber found Franklin to be the perfect exemplar of the "Protestant ethic" and the modern capitalistic spirit. Although Franklin did indeed become a wealthy tradesman by his early 40s, when he retired from his business, during his lifetime in the 18th century he was not identified as a self-made businessman or a budding capitalist. That image was a creation of the 19th century. But as long as America continues to be pictured as the land of enterprise and opportunity, where striving and hard work can lead to success, then that image of Franklin is the one that is likely to endure.