The Bertone Carabo 1968 sits at the pinnacle of the "wedge" car design craze of the late 1960s and early 1970s. Along with a galaxy of other concept cars, this fantasy machine took groundhugging to extremes.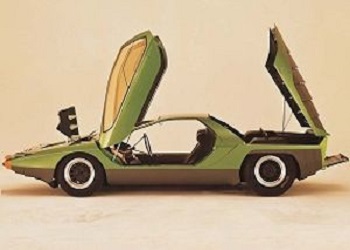 Bertone Carabo 1968
YEAR REVEALED 1968
PLACE OF ORIGIN Turin, Italy
HISTORICAL STATUS prototype
ENGINE V8-cylinder, 123ci (1,995cc)
MAXIMUM POWER 230bhp
LAYOUT mid-mounted engine driving the rear wheels
BODYWORK two-door, two-seater coupé
TOP SPEED 160mph (257kph)
NUMBER BUILT one
Bertone used a mid-engined layout to turn what would normally have been a hood into an acute-angled nosecone, from which the enormous windshield was a continuation in one unbroken styling line. An abruptly truncated tail hinted at scientific aerodynamics, but the main intention of these cars was to shock and impress in equal measures.
There seems to be no evidence that the quoted 160mph (257kph) of the Carabo was ever attained, but its stunning lines-the work of designer Marcello Gandini-certainly cloaked a real car. In this case, the chassis was from the Alfa Romeo Tipo 33 race car with a V8 engine, complete with its sophisticated all-round double-wishbone suspension and disc brakes. Bertone's deft public relations made the Carabo a headline-grabber around the world upon its unveiling at the 1968 Paris Motor Show on its looks alone.
Yet it was also a technology showcase, boasting lightweight copper-tinted glass from Belgian specialists VHR-Glabverbel, and a metallic green paint job with fluorescent orange highlights. No one claimed the Carabo would be on sale any time soon, yet, three years later, this was clearly the inspiration for the Lamborghini Countach-adding to the car's iconic status in the pantheon of car design.