Nubar Sarkis Gulbenkian, monocle in right eye and orchid always on lapel, was one of London's most recognizable playboys during the 1960s. He lived at the Ritz Hotel, married three times, and enjoyed a lifestyle of supreme indulgence.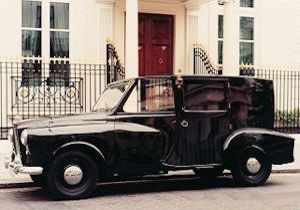 Austin FLM Panelcraft Taxi 1965
YEAR REVEALED 1965
PLACE OF ORIGIN Coventry, Warwickshire, and London, UK
HISTORICAL STATUS customized production car
ENGINE our-cylinder, 129ci (2,199cc)
MAXIMUM POWER 68bhp
LAYOUT front-mounted engine driving the rear wheels
BODYWORK four-door, six-seater sedan
TOP SPEED 80mph (129kph)
NUMBER BUILT two
He was of Armenian-Jewish extraction and, like his father Calouste Gulbenkian, made his fortune in the Middle East oil industry. Old Calouste's acumen at dealmaking meant he eventually owned 5 percent of the shares in oil company BP. Nubar was no less astute, but enjoyed more of his fortune than his father ever had. Motoring was a Gulbenkian passion.
At first, it was ultra-fast vintage sports cars; then a string of specially made, and mostly very ugly, Rolls-Royces. In 1965, Nubar decided to have a unique miniature limousine built-based on London's superbly maneuverable Austin FX4 taxi. A bewildered Rolls-Royce was asked to assist, and construction was eventually entrusted to the workshops of FLM Panelcraft in London's Battersea.
Soon, a rear passenger compartment resembling a horse-drawn Brougham was built on to the cab's familiar frontage. The interior featured gold-plated fittings, there were carriage lamps on the door pillars, and the hood sported a Lalique glass mascot. It instantly became one of London's most distinctive cars, and Gulbenkian ordered a second example. The first taxi went to California. It still exists, however, making £23,000 at a British auction in the 1990s.