Bluebird was not one single vehicle but a long series of cars and motor boats used to challenge world speed records. The 350bhp Sunbeam was just one of the early models. Bluebird was the "lucky" name of Sir Malcolm Campbell (and later of his record-breaking son, Donald), the descendant of a wealthy London diamond-dealing family who began his car-racing exploits in 1910.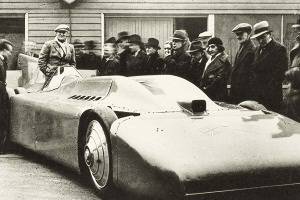 Bluebird 1935 SPECIFICATION
YEAR REVEALED 1935
PLACE OF ORIGIN Brooklands, Surrey, UK
HISTORICAL STATUS speed record car
ENGINE V12-cylinder, 2,232ci (36,582cc)
MAXIMUM POWER 2,500bhp
LAYOUT rear-mounted engine driving the rear wheels
BODYWORK single-seater racer
TOP SPEED 301mph (484kph)
NUMBER BUILT one
Having topped 150mph (241kph) in the Sunbeam, he now set his sights on bettering 200mph (322kph), which he achieved in 1928 using, for the first time, a car designed to his precise requirements. At its heart was a 450bhp Napier Lion 12-cylinder aero engine. Constantly updated and modified, by 1931 Bluebird featured a supercharged, 950bhp Napier V12 engine. Campbell took the record to 246.09mph (396.04kph), and was knighted for his heroic feat. But there was no stopping him. In 1932, he became the first man on earth past 250mph (402kph).
The car pictured here was crafted in partnership with engineer Reid Railton in 1935, with power coming from a huge 2,232ci (36,582cc) supercharged Rolls-Royce R-type V12 aero engine. The design of this unit, at the time, was a closely guarded secret, but Rolls was eager to share the huge publicity Campbell generated. Thoroughly developed from earlier Bluebirds, it now had full-width bodywork and twin rear wheels. Driving it on the Bonneville Salt Flats in Utah, he achieved an amazing, record-beating 301.129mph (484.620kph).