Sir Dennistoun Burney was a respected defense inventor during World War I. He designed what was held to be the finest British airship of all, the R100. But airships rapidly fell from favor after the fatal crash of the later, government-sponsored R101 in 1930, which killed 48 people. Instead, Burney applied his expertise to motoring.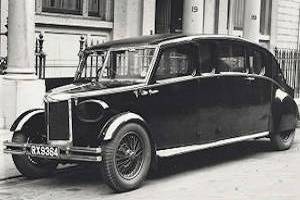 Burney Streamline 1930
YEAR REVEALED 1930
PLACE OF ORIGIN Maidenhead, Berkshire, UK
HISTORICAL STATUS production car
ENGINE eight-cylinder, 180ci (2,956cc)
MAXIMUM POWER unknown
LAYOUT rear-mounted engine driving the rear wheels
BODYWORK four-door seven-seater sedan
TOP SPEED 80mph (129kph)
NUMBER BUILT 12
He found backing for his Streamline Cars from his friend Stephen Courtauld, a textile magnate with an interest in technology. With "streamline" the 1930s buzzword equivalent of "digital" today, Courtauld was eager to own an airship-inspired car himself. The fabric-covered body frame of Burney's "R100 on wheels" was built like an aircraft fuselage, a sort of inverted truss steel girder, cross-braced by strainer wires, with a completely flat underside. Rear-engined, the Burney had all-round independent suspension, and a spare wheel was concealed inside the rear door.
Seven passengers could be carried and, despite appearances, the Burney was said to handle well and 80mph touch (129kph). A twin-cam, straight-eight engine provided the power. Yet despite being housed in a projecting case with massive air scoops, it overheated badly and was even prone to catching fire. It was also so expensive that only a few novelty crazed patrons-for that's what Burney Streamline buyers were, the Prince of Wales among them-bought one.