Inspired by racing cars, the T1 was designed by Formula 1 engineers and is powered by an engine descended from Indianapolis racers. The Caparo T1 – a road-legal trackday car created by two ex-McLaren engineers and Gordon Murray himself – is like no other car in history. The Bugatti Veyron is not in the same league.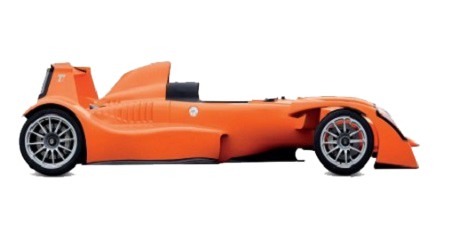 Caparo T1 2007
Origin United Kingdom
Engine 3,496 cc, V8
Top speed 205 mph (330 km/h)
Thanks to a carbonfibre tub, an engine that's a mildly detuned 3.5-litre V8 from Indycar racing and a straight-cut Hewland transmission this car offers a top-level race experience to the public. What happens when you put your foot to the floor for the very first time in the Caparo T1 is so shocking, so intense that you back off the throttle just to make sure you are still in one piece.
The pure shove in the back as the T1 delivers the first of many punches fair takes your breath away. It accelerates with massively more energy than anything you've ever experienced, the official claims for 0-100km/h being 2.5 sec; or 0-160 km/h in under five seconds.
And there's absolutely no let up as you shift into third, then fourth, fifth and sixth, almost as quickly as you think it. In fourth gear at a steady 160 km/h, you can put your foot down and the T1 takes off with the same thump in the back as a Porsche 911 Turbo does off the line.
Up to around 300 km/h, which is when the high downforce configuration of the T1 starts to hold back, a Bugatti Veyron would not get a look in, and would feel like a Golf GTi up to 250 km/h. Thanks to its aero package and huge Michelin tyres, Caparo claims the T1 can pull over 3g through a corner. Even the fastest Ferrari will start to slide off the road at around 1.1 g.