Rumor has it that the company loses money on every car it builds, but the prestige and technology benefits to the parent company are worth it. The Bugatti Veyron is one of the most famous supercars of the modern era and the French marque has taken the wraps off a new special edition at Pebble Beach Concours d ' Elegance in California, the Bugatti Veyron 16.4 Grand Sport Vitesse SE.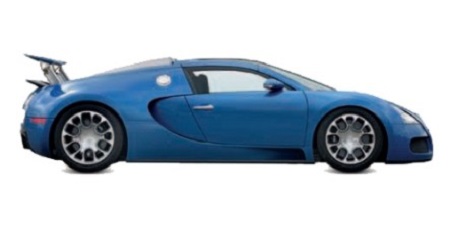 Bugatti Veyron Grand Sport 2005
Origin France
Engine 7,993 cc, W16
Top speed 253 mph (407 km/h)
Displayed in blue and white livery, or "Bianco and New Light Blue", the Bugatti Veyron 16.4 Grand Sport Vitesse SE pays homage to the famous Bugatti Type 37A race car, which first appeared in 1928 and successfully contested several Grands Prix.
The blue-white colour scheme extends to the running gear; new 'Vitesse' 20-inch alloy wheels feature blue highlilghts. Powered by an 8.0-litre W16 engine, the Bugatti Veyron 16.4 Grand Sport Vitesse SE outputs 882 kW/1500 Nm, enough power to shift its 1.9 tonne mass from 0-100 km/h in 2.6 seconds. At launch, back in 2005, the Veyron developed 736 kW.
The upgraded Vitesse finds the extra herbs by way of larger turbochargers and new intercoolers and this has even led to slightly reduced fuel consumption. Driving through a special seven-speed DSG, the all-wheel drive Bugatti's top speed is limited to 410 km/h (255 mph) making it the world's fastest.
The Bugatti Veyron Vitesse SE features an updated roof spoiler "that significantly reduces wind noise and buffeting in the interior," so that drivers can experience open-top driving at speeds of up to 200 km/h. Other changes to the bodywork include an updated front apron with larger air intakes designed to provide ample cooling for the bigger turbo/intercooler setups.
Carbon fibre is used extensively in this Veyron roadster, from the monocoque frame to the exterior body panels and even the interior, with part the centre console made of the exotic and light weight material. Aluminium, magnesium and leather also make appearances, with acres of the latter.