Count Louis Zborowski was something of a showman. He built four colossal aeroplane-engined cars in the 1920s. They were as much as 1,648ci (27,000cc) in size, and widely known as "Chitty Chitty Bang Bangs"; rarely revving above 1,500rpm.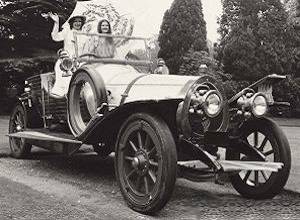 Chitty Bang 1968
YEAR REVEALED 1968
PLACE OF ORIGIN Weybridge, Surrey, UK
HISTORICAL STATUS custom-made movie car
ENGINE V6-cylinder, 183ci (2,994cc)
MAXIMUM POWER 136bhp
LAYOUT front-mounted engine driving the rear wheels
BODYWORK door-less, four-seater convertible
TOP SPEED unknown
NUMBER BUILT four (three of them mock-ups for filming)
One man they left an indelible impression on was James Bond creator Ian Fleming, who wrote a 1964 children's book based on the story of a similarly large vintage car with magical powers. Three years later, Albert "Cubby" Broccoli, producer of the 007 movies, turned Fleming's fairytale into a film, with the help of author Roald Dahl, which was first screened in December 1968.
The cinematic Chitty Chitty Bang Bang was no aero-engined leviathan but was specially built by Alan Mann Racing. It had a V6 Ford 183ci (2,994cc) engine and automatic transmission, and was designed to withstand mistreatment during filming but to retain a hand-made coachbuilt aura. Production designer Ken Adam and special effects guru Rowland Whett made Chitty appear to fly and swim, as lovable inventor Caractacus Potts-played by Dick Van Dyke-intended.
Broccoli kept the car at Pinewood Studios but sold it to professional clown Pierre Picton in 1972, with a proviso that Broccoli had first refusal if he got sick of it. That was probably the reason Picton turned down an offer for the car from pop star Michael Jackson in 1991, reputedly for over $10 million.