Chrysler's Turbine project was the most glamorous rolling experiment ever conducted on American roads. The only car ever series-produced with a gas-turbine "jet" engine, the real-life test program went as smoothly as the power delivery from its vibration-free power unit.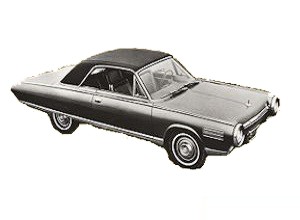 Chrysler Turbine 1963
YEAR REVEALED 1963
PLACE OF ORIGIN Detroit, Michigan, and Turin, Italy
HISTORICAL STATUS production car
ENGINE gas turbine
MAXIMUM POWER 130bhp
LAYOUT front-mounted engine driving the rear wheels
BODYWORK two-door, four-seater hardtop coupé
TOP SPEED unknown
NUMBER BUILT 55
Selling the car to the public was deemed too risky, so Chrysler loaned examples for free, for three-month trial periods, to a wide spectrum of American drivers. Rather than install the fourth-generation engine in a standard Chrysler, a unique model was designed in-house. The bodies were built by Italian coachbuilder Ghia and power units fitted in Detroit.
The Turbine was a fourseater hardtop with little of the jet-age gimmickry of most Chrysler/Ghia show cars. The speed of the engine was reduced to a maximum of 4,680rpm in daily driving use and the power was delivered to the wheels via a lightly modified automatic gearbox. The engine could burn any fuel, including diesel, kerosene, alcohol, or vegetable fat.
The test cars proved remarkably reliable, with only 5 percent of the total test time lost to breakdowns, and oil changes unnecessary. Downsides included patchy running at high altitudes and the vacuum cleaner-like noise. But the biggest problem was the unacceptably high level of nitrogen oxide emissions. After the program ended in September 1966, 46 Turbines were scrapped; today, three working cars survive. Chrysler's financial troubles meant the Turbine adventure was never repeated.