Afrenzied round of trans-Atlantic dealing between America's Chrysler Corporation and Italy's Carrozzeria Ghia preceded the unveiling of this handsome coupé in 1952. Originally, Fiat sought Chrysler's help in training its manufacturing technicians.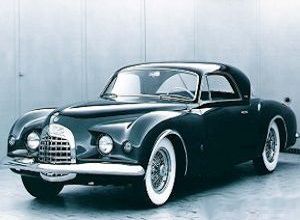 Chrysler K310 1952
YEAR REVEALED 1952
PLACE OF ORIGIN Detroit, Michigan, and Turin, Italy
HISTORICAL STATUS prototype
ENGINE V8-cylinder, 331ci (5,424cc)
MAXIMUM POWER 180bhp
LAYOUT front-mounted engine driving the rear wheels
BODYWORK two-door, five-seater coupé
TOP SPEED unknown
NUMBER BUILT one
Then Chrysler realized that Italy's car-styling brilliance could help to upgrade its image. Ghia and Pinin Farina both tendered for the business by building one-off bodies. Ghia's car, the Plymouth XX-500 sedan, was no beauty, but Chrysler was impressed at the workmanship and modest cost. Soon Chrysler's American-designed prototypes were brought to life in Ghia's Turin workshops.
The K-310 was the first commission with a design overseen by Virgil Exner, Chrysler's "ideas man." "K" commemorated Kaufman Keller, Chrysler's president, and "310" denoted its supposed power (although the engine in the Chrysler Saratoga chassis only gave 180bhp). Ghia duly translated the drawings and scale models into a completely hand-built, full-size car-for just $20,000.
Exner had made features out of normally concealed components, such as the spare-wheel shape molded into the boot lid. The large wheels emphasized the car's rakish lines, while the small, egg-crate-style radiator grille highlighted the low hood line. With the K-310, Chrysler showed it could design cars every bit as exciting as those from Ford and General Motors. And they had the added cachet of being "Made In Italy."