Formula One racing was changed forever by this car, after its first Grand Prix win in Argentina in 1958. Stirling Moss joined the private Rob Walker team to drive a strange little rear-engined car that even the event organizers were reluctant to let take part.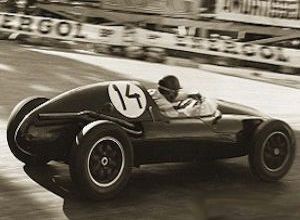 Cooper T43-45 Climax 1958
YEAR REVEALED 1958
PLACE OF ORIGIN Surbiton, Surrey, UK
HISTORICAL STATUS Formula One racing car
ENGINE four-cylinder, 120–152ci (1,960–2,495cc)
MAXIMUM POWER 240bhp
LAYOUT rear-mounted engine driving the rear wheels
BODYWORK single-seater racer
TOP SPEED 140mph+ (225kph+)
NUMBER BUILT 30/26
The tiny, dark blue machine was so light compared to its front-engined rivals-partly due to a chassis incorporating unconventional curved links-that it didn't need to stop for tire changes. That, allied to Moss's superlative driving, meant he eventually passed everyone, including Fangio and Hawthorn in their Ferraris, to swipe victory.
During the following three years, Cooper T45s and T51s-using 122, 134, and 153ci (2,000, 2,200, and then 2,500cc) Coventry Climax engines-twice brought the tiny British company the Constructors's World Championship.
The front-engined Formula One car was rendered utterly obsolete. Mid-engined machines had competed in the 1930s and, while formidable, they were hard work to drive with their enormous power and weight, and narrow tires. The Cooper Car Company began by building motorbike-engined racing cars for Formula 500.
As this evolved into Formula Three, Coopers developed in parallel, and by 1957 the cars were Formula Two regulars. After Moss's stunning win in Buenos Aires, Australia's Jack Brabham twice became World Champion driving for Cooper in 1959 and 1960. By 1961, every car on the Formula One grid had adopted the Cooper's layout-Ferrari included.