Even today, there's something irresistibly futuristic about the Chrysler Thunderbolt. It's also extremely evocative, its pontoon-like body having been the inspiration for millions of tin toy cars of the 1940-50s. Six Thunderbolts were created for a nationwide tour of American Chrysler dealers, intended to add spice to the introduction of the 1941 model-year Chrysler cars in showrooms across the country.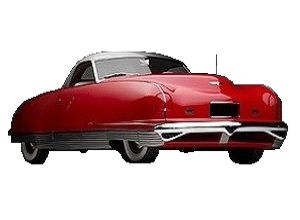 Chrysler Thunderbolt 1941
YEAR REVEALED 1941
PLACE OF ORIGIN UK Detroit, Michigan
HISTORICAL STATUS prototype
ENGINE eight-cylinder, 323ci (5,301cc)
MAXIMUM POWER 143bhp
LAYOUT front-mounted engine driving the rear wheels
BODYWORK two-door, two-seater roadster
TOP SPEED unknown
NUMBER BUILT six
The name came from a car that had smashed the land speed record at Bonneville Salt Flats, Utah, in 1938. Each car had a chrome lightning flash on its doors. The basis for the cars was the chassis of the straight-eight Chrysler New Yorker, but the novel bodies were built by the Briggs coachwork firm to the design of Alex Tremulis, a leading independent stylist of the time.
The pontoon-like profile was shocking enough at the time, with slab sides completely enclosing the wheels. But within this aluminum outer skin were other innovations, including an electrically retractable hardtop and headlights, doors that opened via discreet push buttons, and the novel idea of an air intake under the front bumper.