Japanese giant Toyota had an unsteady introduction to the car world. The company specialized in making textile looms until 1935, when a windfall on the sale of some patents persuaded Kiichiro Toyoda, son of the founder, to consider entering the car business.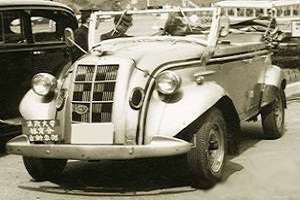 Toyota AA 1937
YEAR REVEALED 1937
PLACE OF ORIGIN Koromo City, Japan
HISTORICAL STATUS production car
ENGINE six-cylinder, 207ci (3,389cc)
MAXIMUM POWER 62bhp
LAYOUT front-mounted engine driving the rear wheels
BODYWORK four-door five-seater sedan
TOP SPEED unknown
NUMBER BUILT 1,404
It was no surprise that the three prototypes he built in May 1935 bore an uncanny resemblance to the Chrysler Airflow-the Toyoda Automatic Loom Works had bought one to take apart, and closely modeled the A-1 on it. They used Toyoda's newly designed Type A six-cylinder engine in a ladder-type chassis, closely copied from Ford. Yet, unusually for the time, it had pressed-steel disc wheels and a curved, one-piece windshield. Toyoda suspended its fledgling car project to concentrate on the G1 truck, considered a more profitable venture.
In 1937, however, the car was finally announced for sale under the name Toyota AA. Why the change? In July 1937, Kiichiro held a competition to find a new logo for the firm's vehicle-making venture. The winner, from over 20,000 entries, suggested a harmonious shape in which the Japanese characters suggested speed but, because it used only eight brushstrokes, it was also deemed a symbol of burgeoning prosperity. It was made to align phonetically with the company name by changing the word from "Toyoda" to "Toyota"; Kiichiro also liked the distance it put between the car and its family business origins.