Citroën had long plotted a genuine flagship model mixing the DS's hightech logic with two extra facets: performance and prestige. Therefore, the opportunity to buy Italy's Maserati in 1968 proved ideal for adding supercar experience to Citroën's renowned design ideals.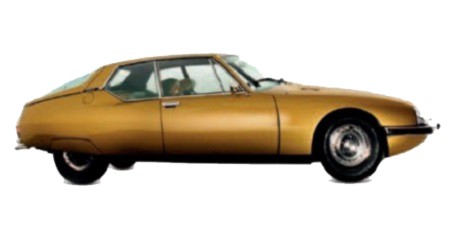 Citroën SM 1970
YEAR REVEALED 1970
PLACE OF ORIGIN Paris, France, and Modena, Italy
HISTORICAL STATUS production car
ENGINE V6-cylinder, 163–181ci (2,670–2,974cc)
MAXIMUM POWER 180bhp
LAYOUT front-mounted engine driving the front wheels
BODYWORK two-door, four-seater sedan
TOP SPEED 142mph (229kph)
NUMBER BUILT 12,920
The result, in 1970, was the fabulous Citroën SM, a stunning combination of French ingenuity and Italian panache. At its heart was a tidy 90 degree V6 Maserati engine, derived from the marque's V8. At 163ci (2,670cc), it put the car just inside the acceptable bracket for taxation in France. Unlike a Maserati, however, the SM was front-wheel drive, with the transmission and driveshafts mounted ahead of the set-back engine.
This superb weight distribution promoted stable road manners, but Citroën's hydro-pneumatic self-levelling suspension, plus four-wheel disc brakes, were excellent features, too. The headlamps could swivel with the self-centring, power steering, allowing an SM to "see around corners." But the body design topped that. With a frontal glass fairing and aircraft-grade aluminum hood, the SM tapered to a sleek finish with a glass tailgate.
The huge windshield and sheathed rear wheels had a space-age aura. The cabin brimmed with futuristic touches, such as oval dials and a single-spoke steering wheel. The seats, with broad, sculptural rolls, looked amazing despite being unsupportive. But sadly, the 1973 global fuel crisis meant demand for 18mpg (6.4km/l) cars evaporated overnight.