Britain's most parochial maker of economy cars and an Austrian-born industrial designer put this adventurous car into mass production. Reliant was Britain's biggest threewheeled vehicle manufacturer when, in 1963, it contracted Ogle Design-a leading product consultancy-to improve its image.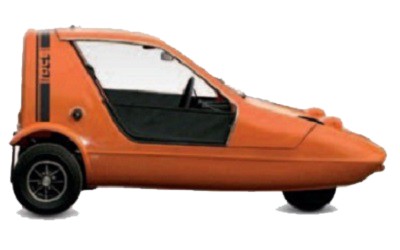 Bond Bug 1970
YEAR REVEALED 1970
PLACE OF ORIGIN Preston, Lancashire, and Tamworth, Staffordshire, UK
HISTORICAL STATUS production car
ENGINE four-cylinder, 43–46ci (701–748cc)
MAXIMUM POWER 35bhp
LAYOUT front-mounted engine driving the rear wheels
BODYWORK single-canopy, two-seater sedan
TOP SPEED 77mph (124kph)
NUMBER BUILT 2,268
Coincidentally, Ogle's managing director Tom Karen had planned his own tiny three-wheeled fun car, called the Rascal, back in 1958. Aimed at students, it was designed to be cheap to make and own. At first, Karen was occupied with Reliant's innovative Scimitar GTE sports-station wagon, but by 1967 his client was eager to add his sporty three-wheeler to its line-up.
The final production car was amazingly faithful to Karen's proposal, including the vertically truncated tail, the exposed rear axle, and even a plywood trunk lid. Reliant insisted on more luggage space within the plastic body, but actually made the car more radical by incorporating a lift-up canopy with side-screens, instead of a fixed roof. The car went on sale in June 1970 as the Bond Bug, the Bond marque having been acquired by Reliant that year.
It could be bought with Reliant's "credit package" offering time purchase, a two-year warranty and cheap insurance, designed to foster sales among young drivers. It was quite exhilarating to drive despite its meager power, yet the Bug was a small seller and was dropped in 1974, unable to overcome the Mini's four-wheeled allure.