Frank Costin was an eccentric, chainsmoking engineer whose mastery of aerodynamics-gleaned in the aircraft industry-made him a godsend to racing teams like Lotus and Vanwall in the 1950s.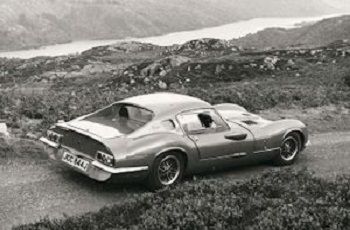 Costin Amigo 1970
YEAR REVEALED 1970
PLACE OF ORIGIN Little Staughton. Bedfordshire, UK
HISTORICAL STATUS production car
ENGINE four-cylinder, 121ci (1,975cc)
MAXIMUM POWER 96bhp
LAYOUT front-mounted engine driving the rear wheels
BODYWORK two-door, two-seater coupé
TOP SPEED 137mph (220kph)
NUMBER BUILT eight
He became the "-cos" part of sports car firm Marcos with partner Jem Marsh; his aeronautical engineering expertise led him to take the unusual step of using laminated marine plywood for the chassis of his first cars, to minimize weight. Marcos eventually dropped this unique construction method but Frank Costin was convinced it had potential for further development.
He eventually raised the finance to build his own wooden-chassis car. Perhaps understandably, the Costin Amigo looked vaguely like a Marcos 1800. It was built around a plywood monocoque frame, with pine strips bonded on to reinforce it, and fiberglass body panels for extreme lightness and a notably smooth finish.
The 121ci (1,975cc) engine, running gear, and suspension, came from the Vauxhall VX4/90. Frank Costin is said to have chosen this car after being impressed by a rented model. The Amigo was built in a small factory at an airfield near Vauxhall's Luton plant.
Thanks to its low weight and highly aerodynamic shape, the Amigo gave a stunning performance from its rather unremarkable running gear. It could reach 137mph (220kph), and gained acclaim for its handling. This might have been compensation for the austere interior and £3,326 price, but only eight cars were sold.