In 1974, US engineer and automotive executive John DeLorean set out to create an "ethical" sports car, shunning the cynical practices of General Motors, where he'd enjoyed a glittering career.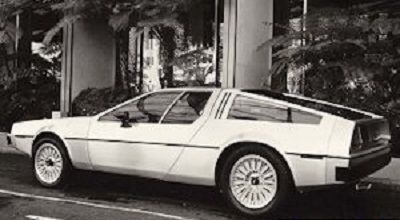 Delorean DMC-12 1979
YEAR REVEALED 1979
PLACE OF ORIGIN Belfast, Northern Ireland, UK
HISTORICAL STATUS production car
ENGINE V6-cylinder, 174ci (2,849cc)
MAXIMUM POWER 130bhp
LAYOUT rear-mounted engine driving the rear wheels
BODYWORK two-door, two-seater coupé
TOP SPEED 121mph (195kph)
NUMBER BUILT 8,550
DeLorean chose Northern Ireland as the manufacturing base for this new enterprise, lured by nearly £40 million in British government regeneration funding. The DeLorean DMC-12 itself was a very weird vehicle. Part of DeLorean's ethics was that, like the Porsche 911, pure engineering principles would prevail.
It was to be a rearengined two-seater with a plastic chassis. He gave the car "gullwing" doors and body panels in stainless steel. These couldn't rust and made a paintshop unnecessary. A Citroën rotary engine was proposed. But in 1979, the DeLorean engineering development was assigned to Lotus, and the concept was watered down, losing the rotary engine and plastic frame.
Under its shiny steel panels, the car became little more than a Lotus Esprit with a V6 Renault engine. Production began in December 1980. In the US, its sole market, the hype was immense but the reality was dire.
The car was underpowered, unexciting to drive, expensive at $25,000, and poorly built. Still, no one was prepared for DeLorean's insolvency in January 1982. The venture eventually lost £77 million of British taxpayers' money. Later, it emerged that the disgraced DeLorean had conspired with Lotus executives to defraud the business of millions of pounds.