Meanwhile, in Britain something of a silent revolution was taking place. A major post-war reconstruction phase saw new towns and prefabricated housing estates springing up across the country. To serve these concrete towns and housing developments, fleets of mobile shops and delivery vans were required. The Trojan Electrojan was a small battery-powered commercial van designed to be used in areas poorly served by public transport.
The Electrojan was widely adopted by private shopkeepers and large companies alike. Delivery companies embraced electric vehicles because they were more reliable, easier to drive and quieter. Companies like Ringtons Tea and Corona soft drinks used electric vehicles to distribute their products to customers across the country. Vehicles like the Shop-mobile even had a refrigeration unit to keep meats and perishables cool.
Commercial EVs were big enough to accommodate larger batteries and, therefore, overcame the range restrictions that hobbled electric cars. This was the major reason why battery-powered delivery vehicles continued to be produced when cars largely died out and why commercial vehicles led the way in the nineties when interest in electric vehicles was rekindled by pollution fears and the soaring cost of fossil fuels.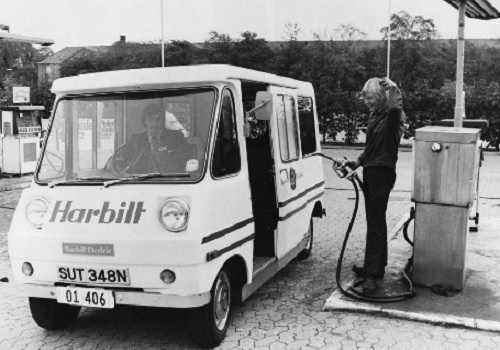 The UK led the market in another way, too. By 1960, the UK had the largest electric vehicle fleet in the world in the form of tens of thousands of milk floats, which glided silently up and down streets delivering pints of milk and cartons of cream to doorsteps while Britain slumbered.
Many of these were built by Harbilt Electric Trucks and Vehicles, which accounted for 80 per cent of the 50,000 electric vehicles on British roads by the mid-1970s. The Dairyliner range of eight vehicles was designed to fulfil a wide delivery role and could travel up to 50 miles (80 km) at a maximum of 22 mph (35 km/h). Beyond the milk float, Harbilt also manufactured vehicles for mail deliveries and these were widely used for house-to-house deliveries by the Swiss Post Office. The Harbilt 551, a pedestrian-controlled vehicle, was developed with Swiss winters in mind and engineered for extra traction in snow.
The Harbilt HSV3 was a general delivery utility designed to keep pace with urban traffic. Compared to a milk float, the extra weight of the batteries meant a reduced payload. However, the United States Post Office was sufficiently impressed to order thirty HSV3s. These were delivering letters in Cupertino, California, in the heart of Silicon Valley, about the same time as Steve Jobs and Steve Wozniak were setting up a small computer company they called Apple. The switch to electricity saved Cupertino Post Office 23,000 gallons (103,500 ltr) of petrol a year.
Harbilt also sold a variety of other electric commercial vehicles, including carriers, platform trucks and even an electric refuse wagon (via a subsidiary company, Tri-Truk Ltd). The company harboured no ambitions to build cars. However, another big player in the electric delivery market – Smith Vehicles – did come tantalizingly close to creating a passenger car.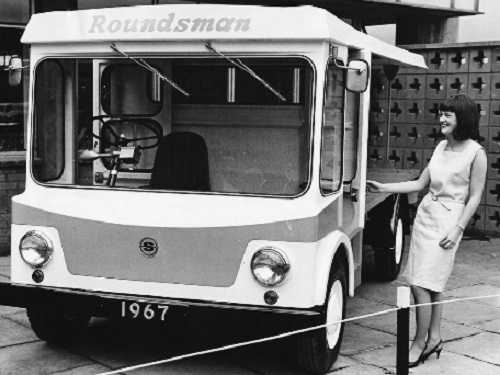 Founded in 1920, as Northern Coach-Builders in Newcastle, the company initially concentrated on making electric trolley buses and trams. It changed direction, and name, in 1949 to concentrate on road-going commercials when demand for milk floats took off. From a modest Nissen hut the firm moved into a 30,000 ft2 (2,700 m2) factory then expanded into four additional smaller units. This was consolidated into a new 140,000 ft2 (12,600 m2) factory that opened in 1961.
By 1959 Smith Delivery Vehicles had moved to larger premises in nearby Team Valley, Gateshead, and was a major manufacturer of electric commercial vehicles.
As well as milk floats and delivery trucks, the company had also won the UK rights to the American Mister Softee ice-cream brand, which led to a profitable side-line building ice-cream floats. Smith built the vehicles and Glacier Foods Ltd, an off-shoot of the famous J. Lyons Company, provided the ice-cream.
The group's American connections led to an ambitious partnership with Boyertown, a coach-builder that manufactured Mister Softee ice-cream floats for the US market at a factory in Eastern Pennsylvania, and the Exide battery company. Smith, which was by then one of the world's leading manufacturers of electric vehicles, approached Boyertown with plans for an electric route delivery truck. It was to be called the Battronic and powered by Exide batteries.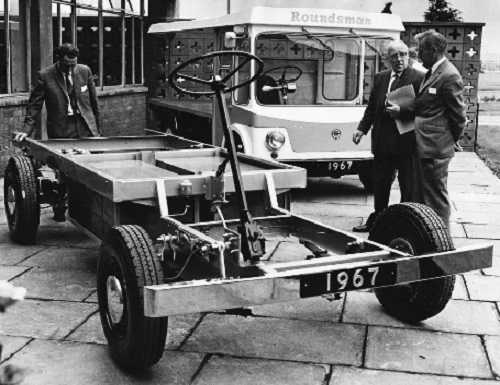 The partners set up the Battronic Truck Corporation. The truck was designed by Smith, built by Boyertown using its high-strength corrosion resistant Multalloy body panels and powered by Exide's heavy duty traction batteries. They had a top speed of 25mph (40 km/h) and could haul an impressive 2,500 lb (5,500 kg) cargo load for more than 50 miles (80 km) before the batteries needed a recharge. The first customer was the Potomac Edison Company, which took delivery in March 1964.
However, in 1966 Smith withdrew from the Battronics partnership. It was followed out of the door by Exide in 1969. Undeterred, Boyertown turned to General Electric for help and continued manufacturing a revamped Battronic range with a more efficient battery system that could be swapped out for a fully charged pack in less than 10 minutes. Sales peaked in 1973 when total annual production reached 107 vehicles.
As well as delivery vans, the company also built a minivan and an electric bus (one of which was bought by the Canadian Department of National Defence). The last vehicles were completed in 1983. Altogether, the company built 175 delivery vans, a lone pickup and more than twenty buses.