Because of its size and population density, the UK was one of the first countries in the world to appreciate the damage unfettered automobile ownership could do to a small country. These fears came to a head in 1963 with the publication of the infamous Traffic in Towns report compiled by Professor Sir Colin Buchanan for the UK Ministry of Transport. The report painted a bleak picture of a future Britain choked with traffic. Although there were less than 7 million cars on the roads at the time, the report predicted:
It is impossible to spend any time on the study of the future of traffic in towns without at once being appalled by the magnitude of the emergency that is coming upon us. We are nourishing at immense cost a monster of great potential destructiveness, and yet we love him dearly. To refuse to accept the challenge it presents would be an act of defeatism.
The report was commissioned by the Transport Minister, Ernest Maples, who wanted to know how Britain could cope with an explosion in car ownership without turning its towns and cities into concrete jungles. It concluded that a ban on cars in city centres was inevitable, otherwise they would be overwhelmed by noise, fumes and street paraphernalia; a state of affairs that would alter shopping centres beyond recognition – and not for the better. To avoid this dystopian future the report demanded planning constraints on road building in urban areas, official recognition that more traffic was not necessarily a good thing and a set of standards for pollution, noise and safety.
In addition to this, action to control exhaust fumes could be taken under the provisions of the 1956 Clean Air Act and planners could design urban centres to discourage drivers. The Buchanan report would influence road planning for decades to come.
It also encouraged another look at the electric car concept.
A horrified Ernest Maples established a Cars for Cities study group to examine the possibilities for using electric commuter cars to reduce congestion before Buchanan's predictions came true. He envisaged a small microcar with a top speed of 35mph (56km/h), powered by four 12V batteries and driven by a simple motor that could be sold for £300. Government interest spurred on car manufacturers – big and small – to develop suitable vehicles in the hope that legislation, or generous subsidies, would force motorists to take electric microcars seriously.
In 1964, Lord Esher, architect and town planner, told the Royal Institute of British Architects that he foresaw a time when the cars of commuters and visitors would be banned from city centres. Even vehicle deliveries to shops might be banned for all but an hour or two either side of early morning and the late evening.
He proposed a two-tier transport system where drivers could use battery-powered 'rickshaws' for getting about historic cities like Oxford or York. Lord Esher described his idea as a 'slightly comic' price to pay for the development of 'a silent and smell-less, presumably battery driven, little rickshaw'.
Cars will be left on the fringe of the town and small electric cars will be used for the internal journeys instead of driving around in huge monsters. The limitation on the speed and range of an electric vehicle will be of no importance within the town.
Heyman even forecast the rise of home-shopping, predicting that the problems of delivering bulk items to department stores would be negated by people buying white goods via the television. However, his idea of fitting CCTV cameras to silently scan the shelves of giant warehouses for an acquisitive TV audience seems slightly comical in retrospect. 'It will be unthinkable to go shopping,' he explained. 'You will have colour TV sets at home. There will be a shopping hour when you can see what there is in the warehouse. You will press the appropriate button for what you want and the quantity.
The order will then be delivered, probably by an electric vehicle.' Mr Heyman's prediction that the supermarket was on its way out was also wide of the mark. 'The supermarket was very nice when it was new, but in the affluent society, housewives won't want to be pushing baskets around,' he predicted confidently.
The same year as Heyman was crystal-ball gazing, another British company – Scottish Aviation based at Prestwick – was already working on a concept for a small electric city car.
Originally a flying school, Scottish Aviation moved into aircraft maintenance and manufacture during the Second World War. By the early sixties, however, the British aircraft industry was in disarray after a series of setbacks, political backstabbing and poor decision-making. Management looked for a way to diversify and car manufacturing seemed to be a good fit. Concerns about pollution and congestion – spurred on by the Buchanan report – appeared to have created a niche in the market for a small electric city car.
The resultant two-seater was called the Scamp. The concept, which was overseen by Dr W. G. Watson and project leader J. Chalmers, owed more to the bubble cars that were popular in the fifties than the traditional saloon car as used by the Henney Kilowatt. However, there was sound thinking behind the Scamp's odd looks. Watson said he wanted a small electric car that was easy to drive and a doddle to park, which could be sold for £150 less than a Mini. Congestion worries forced the designers to keep the car's dimensions to a minimum. This also made it manoeuvrable.
The body was fashioned from fibreglass as a way of avoiding the inevitable dents metal-bodied cars picked up during the cut and thrust of busy inner-city driving and the enormous windscreen (quite out of keeping with the otherwise diminutive proportions) gave a panoramic view of the road ahead and avoided the claustrophobic feeling that was a common complaint at the time.
Before the Scamp's specifications were laid down, the company investigated a wide range of concepts, including a Reliant-style three-wheeler and a body that had no doors. The final car was 7 ft (2 m) long and 3 ft 10 in (1m) wide. It had a remarkably tight turning circle of just 16 ft 6 in (5 m) – almost half that of a standard Mk 1 Mini – which made it very manoeuvrable in tight spots. Unfortunately, it also looked like a poorly designed toy with its tiny wheels completely out of proportion to the tall wind-screen and high roof.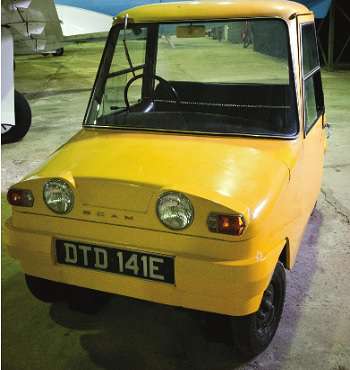 Nevertheless, the Central Electricity Generating Board saw enough potential in the Scamp to begin tentative discussions about marketing the car via its national network of showrooms. Of course, the Scamp's small size also made it a challenge to give it a battery pack capable of decent performance. Just four 48V batteries powered two motors, one each driving the rear wheels via a motorcycle-style chain. This gave it a top speed of 35 mph (56 km/h) and a maximum range of 25 miles (40 km) on a good day.
It seems that W. G. Watson recognized the Scamp's power-related drawbacks. Speaking to author Richard Carr for an article published in the Design Journal in 1966, he predicted the advent of a zinc air battery, with its lighter weight and higher energy density, would be the only practical solution to the Scamp's pitiful range. He is quoted as saying: 'Once the zinc air battery becomes available then I really will have created a town car.'
Nevertheless, early tests were faintly encouraging. After a brief drive, the motoring correspondent of the Press Association wrote:
I found it extraordinarily easy to handle. Because there are no gears, the acceleration, although slower than most petrol driven cars, seemed good. A deep screen and large back window gave excellent all-round visibility and there was plenty of room for two adults. There was some noise from the motors, but in production this could be reduced considerably as the prototype had a wooden body, whereas it is intended to use fibreglass in production.
Unfortunately for Dr Watson, the puny output of the Lucas batteries was the least of the Scamp's problems. Testing of the early prototypes revealed all manner of chassis and suspension-related issues. The body leaked like a sieve in wet weather and puddles would build up in the footwells, making the pedals slippery – with potentially disastrous consequences. Taller drivers complained that the cramped cabin and reduced width meant their knees and elbows bashed against the doors and the steering felt rather like stirring a stick through a bowl of thick Scots porridge oats. At the UK Motor Industry Research Association testing ground, the limited suspension travel took such a pummelling that the whole assembly collapsed. Goodness knows what racing driver Stirling Moss thought when he agreed to drive one for a publicity stunt.
The July 1966 edition of Popular Science hailed the Scamp – and the Trident, another bizarre-looking battery-powered microcar built by Peel Engineering – as the answer to London's growing congestion problems. Incredibly, the Scamp was a full 12 in (30 cm) longer than the Trident, although it wasn't as fast and had an inferior range – the Trident was said to be good for 40 miles (64 km). The journal concluded: 'Used by commuters, the little cars would reduce city traffic jams and eliminated fumes'.
However, by 1966 management at Scottish Aviation had come to the conclusion that the Scamp's problems were so fundamental that there was little point in continuing. The Central Electricity Generating Board had long since abandoned talks so, after just a dozen prototypes were built, the company cut its losses and returned to building planes.
Against all odds, however, the other microcar featured by Popular Science, the Peel Engineering Trident, which was built on the Isle of Man, survives to this very day.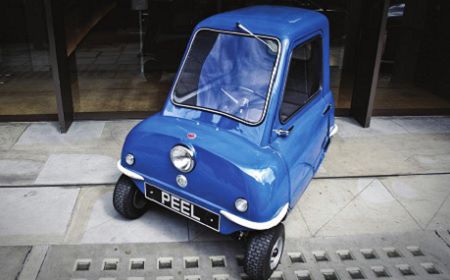 Peel Engineering began life as a manufacturer of fibreglass boats and 'barn door' fairings for motorcycles. In 1962, the company unveiled the P50, a three-wheeled microcar, powered by a moped-style 49cc two-stroke engine. Equipped with only one headlight, seat, door (opening on the left) and a single windscreen wiper, it was actually classed as a scooter – making it cheap to tax and meaning it could be used by anyone with a motorcycle license without the need to sit a driving test. Peel's advertising boasted that the P50 was capable of carrying 'one adult and a shopping bag'. It still holds the Guinness World Record for the world's smallest production car.
The Trident was a larger version of the P50. It was available with the original 49cc powerplant and a 99cc 'high power' variant, which used the engine from a Triumph Tina scooter.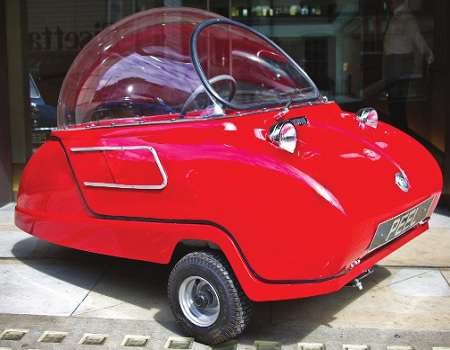 In addition, Peel offered an electric four-wheel version that used a 5bhp motor. The batteries were in a small compartment behind the driver and passenger seat backs and the whole bubble dome roof lifted up to give access to the cabin. The Press Association was less than enthusiastic: 'It felt more like a dodgem than a real car, gave a bumpy ride, was noisy and there was a pungent smell'. Ironically, Peel's vision of an electric microcar would finally come true in the twenty-first century.
When car enthusiast Gary Hillman bought an original Peel at auction he was so smitten that he also negotiated the rights to restart production. The new Peel Motor Company plans to manufacture both the P50 and the bubble-roof Trident as emissions-free electric vehicles. True to the original specification, the power output is said to be a modest 4bhp but, with 16.4 lb ft (22.2 Nm) of torque, the tiny Trident is claimed to be capable of reaching 50mph (80km/h) and has a range of 50 miles (80 km). Sadly, European legislation means they will be limited to 28 mph (45 km/h) in the UK and EU. A 'fun' version, packing a far more modest 1.6bhp DC brushless motor, is also available and has a top speed of 8 mph (13 km/h).
The UK Electricity Council, which oversaw the regional Electricity Boards and the Central Electricity Generating Board in England and Wales, was also researching electric propulsion in the sixties and seventies. It converted two Mini Travellers to battery power as a way of evaluating the possibilities of battery power before committing to a purpose-built design. In a bid to extend the range, one of the two concepts was fitted with simple regenerative brakes. As was the case with previous regenerative systems the benefits were rather modest.
Despite a boot filled with batteries, the best electric Traveller could only cover 35 miles (56 km) if driven non-stop. Stop–start driving reduced this to a far less practical 16 miles (26 km). The Press Association's motoring correspondent described the performance as 'very fast on acceleration and absolutely noiseless' but concluded it was too heavy to be practical.
Mr A. N. Irens, Chairman of the Electricity Council's Research Committee, said the Council had no plans to start producing its own cars. 'Our intention is to see that the battery electric car is launched as a viable, popular commercial proposition in the not-too-distant future,' he said. As a way of stimulating development of new technologies, the Council offered generous subsidies to companies looking to market electric vehicles.
Initially, it championed the Scamp as the perfect electric urban commuter and even placed an order for nine vehicles to be used by regional Electricity Boards. But when the Scamp project ran into trouble the Council invited tenders for the supply of up to sixty more electric vehicles in three categories: a bicycle or tricycle with a speed of 20 mph (30 km/h) and a range of 40 miles (60 km); a two-seater city car with a top speed of 40mph (60 km/h) and a cruising range of 40 miles (60 km); and, most ambitious of all, a four-seater family car with a similar range-to-empty as the others. Carter Engineering, a Tamworth firm that made car transporters incorporating electrical lifting gear, boldly took up the challenge for the family car.
Engineer Alistair Carter had been working on a radical design for a small electric four-seater, called the Coaster, since 1962. The prototype, which was said to weigh only 710 lb (322 kg), used a 6bhp motor driving the rear wheels via a conventional axle, but production plans called for two wheel-hub mounted motors.
The car derived its name from Carter's plan to use a freewheeling regeneration system to boost the four 12V batteries. Using this method, he claimed the Coaster would have a range that was at least 25 per cent better than its rivals. Carter believed the Coaster's excellent acceleration made it the perfect commuter car and he forecast that by 1970 at least a quarter of a million would be on Britain's roads. By May 1967 the company was running a prototype on Staffordshire's roads.
The Coaster had a range of 60 miles (90 km) and the batteries could be charged from any ordinary 13A plug. With an overnight charge costing a mere three shillings, Carter said his vehicle was capable of the equivalent of more than 100 mpg (2.83 ltr/100km). The Coaster's acceleration to 30 mph (50 km/h) was said to be in the region of 7sec and the maximum speed coincidentally met the Electricity Council's 40 mph (60 km/h) target exactly. Sadly for Alistair Carter, no-one took the claims of a small company from Tamworth very seriously and the Coaster ended up as another 'might have been' project.
The electric car wasn't the exclusive preserve of Britain's cottage industry motor manufacturers. Big companies were interested, too.
The British Motor Corporation displayed a woeful ignorance of the technical challenges it faced when in 1967 it announced plans for a two-seat EV that would have a range of 500 miles (800 km). To be developed with a battery company, the BMC design staff at Longbridge were asked to come up with something in a mere two years. Sir Alec Issigonis, the genius who designed the Mini, sketched out an interesting three-wheeler for a British Pathé news report on electric vehicles, which looked somewhat like Lord Esher's rickshaw, but nothing ever came of his idea.
Also in 1967, Ford unveiled its vision of an electric shopping car – the first to be designed and developed by a major manufacturer for many years – at Ford of Britain's Research and Engineering Centre at Dunton, Essex.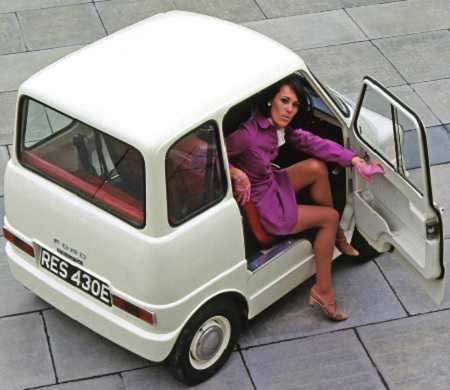 Called the Comuta, the experimental car was just 6 ft 8 in (200 cm) long – less than half the length of a Cortina – and had been designed so that three could be parked in the normal parking meter space. It had an 18 ft (5.5m) turning circle – not as good as the Scamp but very impressive nevertheless – and could carry two adults and two children, in the same cramped manner a Mini could. If the kids stayed at home, the rear seats could pull double duty as a luggage storage area.
The Comuta was a fully developed small car with independent suspension on all four wheels and rear-wheel drive (via two series-wound DC motors). It had all the usual items the average Ford buyer of 1967 would have expected, such as dipping headlights, anti-burst door locks and a heater.
Unveiling the Comuta, Leonard Crossland, Ford of Britain's Assistant Managing Director, said:
We expect electric cars to be commercially feasible within the next ten years, although we believe that their uses will be primarily as city-centre delivery vans and suburban shopping cars. The internal combustion engine will continue to be the most practical form of power for long distance and motorway driving, but we are sure that electric cars will have a part to play in meeting some future transportation needs.
Crossland was realistic about the Comuta's capabilities. The car could cover 40 miles (64 km) at a steady 25 mph (40 km/h), courtesy of four 12V 85A lead-acid batteries, but he said: 'With other – more expensive – batteries we can achieve more than 40 mph (60 km/h) and a greatly increased range. A great deal of effort is being put into more advanced battery technology.'
Explaining the thinking behind the prototype's development, Crossland added: 'We regard this as a step in our programme to develop a commercially practical electric car. We have not yet reached the stage where consideration of production is appropriate. This will depend upon performance improvements which we cannot tie to a time schedule at the moment.'
The second Comuta prototype was shipped off to Detroit, where the company was examining the possibilities offered by sodium sulphur batteries. Further work was undertaken on the powertrain with a view to possible commercial application. But, after its initial burst of enthusiasm, Ford went cold on the Commuta.
The problem, as ever, was the poor performance of the batteries. Despite pleas from drivers to put the car into production, Ford wasn't interested. Indeed, it seemed the company never missed a trick to put the little car down.
In 1971, when hopes were fading that the car would ever see the light of a showroom floor, Ford said its tests had shown the genuine real world range to be a mere 25 miles (40 km). A Ford executive cruelly summed it up: 'The housewife would take the kids to school, then decide to go shopping and, in the afternoon, have a bridge party and then run a friend home. On the way back the vehicle would stop. We do not think the housewife would like that much.' Setting aside the rather condescending reference to 'the housewife' as the only buyer mad enough to want to own a Comuta, and her packed social diary, the unnamed executive's remarks ignored Leonard Crossland's description of the car as a suburban shopping vehicle – not a minibus for running friends backwards and forwards. Anyway, surely the solution to the hypothetical outline would have been for an enterprising Ford executive to sell the car-less friend her very own Comuta. Problem solved.
As if that wasn't bad enough, Ford went further in denigrating the car's potential. In snow (a not uncommon occurrence in the UK) the range could be as little as 15–20 miles (24–20 km), it said. 'It would stop in the most embarrassing of conditions,' sniffed the anonymous assassin. No, Ford concluded that, although it would sell a few thousand on gimmick value alone, demand would not be high enough to justify full-scale production. The Comuta project was quietly shelved only to be dusted down and rehashed as the remarkably similar Ford Think city car 30 years later.
If the Comuta was the most rounded electric shopping car of the sixties, the Enfield 465 and 8000, made by Enfield Automotive of Wimbledon, were probably the most successful. Built under the direction of ex-racing driver, Sir Jon Samuel, the Enfield 465 made its debut at the first International Electric Vehicle Symposium in Phoenix, Arizona, in October 1969. It was the only British entry, but one of the few with genuine commercial prospects thanks to the Electricity Council's enthusiastic support.
For a start it didn't look like a toy. The fibreglass body was neat and contemporary with its recessed headlights, sliding windows, aerodynamic bumpers and integrated brake lights and indicators. Inside, there was space for two adults and two children (or a couple of well-acquainted adults). The motor was good for 4.65 bhp and a 28 mph (45 km/h) top speed courtesy of batteries specially designed for automotive use by Oldham. Special features included an electric screen demister, heater, two-speed wipers, independent front suspension and hydraulic brakes. The target retail selling price was £550.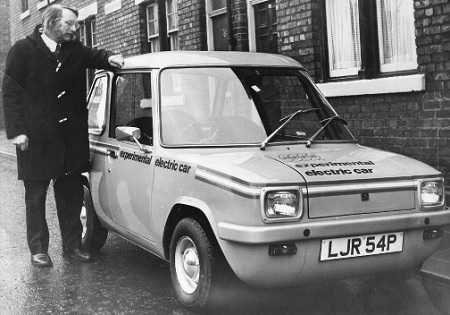 The Enfield 8000 was similar to the 465 but the body was more substantial thanks to a switch from fibreglass to aluminium. The Electricity Council's interest necessitated a change to a more powerful 8bhp motor which gave the 8000 a genuine top speed of 40 mph (64 km/h), although at that speed the car's short wheelbase made it feel like an accident looking to happen.
The suspension was derived from the Hillman Imp and the rear axle was a Reliant three-wheeler cast-off but the steel tube chassis was unique. Konstantine Adraktas, the company chairman and chief technician, brought the 465's body up-to-date, although the unusual squared-off wheel arches (which dwarfed the 10-inch wheels) remained.
Early cars were fitted with eight traction batteries (four in the front and four in the back) plus a single 12V battery for the various electric ancillaries. The main batteries were accessed via the bonnet and rear boot lid. The driver could also get to the rear batteries via the centre portion of the rear parcel shelf, which was a lift-off cover held in place by snap-in fasteners.
The accelerator was linked to a rotating cam, which operated microswitches connected to solenoids that controlled three voltage stages (12V, 24V and 48V) and for each there were two field stages, parallel and series, giving six progressive power stages. They were recharged via a plug in the car's boot. Sadly, the batteries were very heavy, and the car's weight (at 965 kg it wasn't far off a ton) sapped their power. Although the company claimed the 8000's range was between 25 and 55 miles (44–88.5 km) depending on the driving conditions, the former figure was a more realistic estimate.
According to Konstantine Adraktas, however, the later 8000s had a barely believable top speed of 70 mph (110 km/h) and a range of 50–90 miles (80–140 km), due, he says, to the decision to use 12V batteries.
In January 1973, after tests at MIRA (including a full crash test) proved the car was rather more useful than the lamentable Scamp had been, the Electricity Council signed a contract with Enfield to buy sixty-one vehicles. The initial cars had a rather spartan specification – even a heater, pretty much essential if you wanted to run an Enfield all year round in the UK, was an optional extra. However, the company did offer an extensive options list, unusual for a small car at the time, which even extended to leather bucket seats. The paint shop was rather less generous. Just four colours were available: red, white, yellow and, that quintessential seventies hue, burnt orange.
Enfield 8000
Years of manufacture: 1973–76
Body: two-door hatchback
Motor: 48V DC series 4-pole
Batteries: eight lead-acid batteries 12V 110 Ah (also eight 6V batteries in a single series string) plus one auxiliary battery (12V 55Ah)
Recharging time: approximately 8h
Claimed power: 8 bhp
Maximum speed: (64 km/h)
Final drive: differential axle 3.55:1 ratio
Wheels and tyres: 4.5 J x 10in (250 mm)
Tyres: radial 145 SR 10
Suspension: Independent coil over shocks with wishbone front/live axle twin trailing parallel radius arms
Brakes: Lockheed dual hydraulic drums/mechanical parking brake
Length: 112 in (2,845 mm)
Wheelbase: 68 in (1,725 mm)
Width: 56 in (1,420 mm)
Height: 55.6 in (1,410 mm)
Weight: 2,150 lb (975 kg)
Payload: 350 lb (160 kg)
Nevertheless, the Enfield, complete with 'experimental electric car' decals running from the door into the front wings, was rolled out to nonplussed electricity board officials across the country in 1975. Trevor Smith, transport superintendent at the Stockton depot of the North East Electricity Board (NEEB), commented: 'It is compact, high manoeuvrable, almost silent, completely fumeless and economical. But perhaps the most important aspect is the contribution they can make to the wise and efficient use of the nation's resources.'
Ron Patterson, NEEB's North Yorkshire energy marketing engineer, added enthusiastically: 'It's early days yet but we have fallen in love with the car. I am sure it is the answer to Britain's traffic problems: so clean, quiet, simple and, above all, economical. You just plug it in at the mains and an eight hour charges gives maximum range. What could be easier?' The NEEB even convinced The Northern Echo's motoring correspondent Clive Birtwistle to have a go. After a quick drive, he wrote: 'I have tested several prototype electric vehicles in the past ten years and the Enfield 8000 is the most sophisticated and satisfying by far'.
The Electricity Council may have been convinced but ordinary motorists weren't. The hefty asking price didn't help, either. The saloon cost £2,808, a soft top was £2,106 and a van cost £2,214. For that kind of cash, you could buy a couple of Minis and have enough change for a decent holiday. Despite the enthusiastic backing of The Daily Mirror, which gave ten away in a competition, the public remained indifferent.
Enfield's Greek owners had already shifted production to their home country, possibly with one eye on Greece's thriving holiday car-rental market. They also developed an intriguing open-top variant called the Bikini. However, the company suffered a major setback when it failed to win government permission to market the Enfield or the Bikini in Greece. The plans came to nothing. Discussions to form a joint company with the Greek shipping magnate, Aristotle Onassis, founded on hopes of renting the Enfield at airports, also fizzled out. Production came to an end in 1977. In total, Enfield made somewhere between 108 and 150 cars.
The electricity boards used them for more than a decade before they were pensioned off – at least one, possibly a relic of the NEEB fleet, ended up in a scrap yard in Gateshead. An analysis after 3 years revealed that the fleet had covered an impressive total of 251,577 miles at an average of 3,700 miles per vehicle per year. However, the figures concealed wide variations in battery reliability and the survey suggested that, in future, several cars should be run from the same depot where they were likely to be better looked after.
Meanwhile, BMC's bold assertion that it could develop an electric car with a 500-mile (800 km) range was quietly forgotten. When BMC was bundled up into British Leyland it continued to dabble.
In 1971, BL commissioned Michelotti to design an electric two-seater based on the Mini. The car was a joint effort between BL and Crompton–Leyland Electricars of Tredegar, Monmouth, which already had a track record in building small battery-powered vans and milk floats. It was displayed at the Geneva Show but BL had more pressing priorities at the time (such as impending bankruptcy). Shortly afterwards the partnership was dissolved.
Bedford, GM's UK commercial vehicle arm, formed an electric van partnership with battery manufacturer Lucas. The alliance was moderately successful. In 1978, a Bedford design won its class in a major international competition organized by the French Government to determine the level of electric vehicle technology in Europe. As a result, the partners were invited to tender for the provision of a substantial number of 1,000 kg payload electric vehicles to take part in extensive trials with French utilities around Paris.
The French Government had set up a committee to examine various electric vehicle proposals, which chose three – a Peugeot truck and van, and a battery-powered Renault 5 – to be put into production for eventual use with public agencies. The trio could cover 37–124 miles (60–200 km) at speeds of up to 50 mph (80 km/h).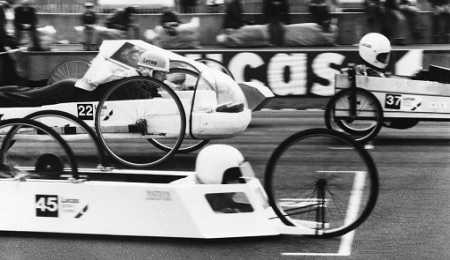 Lucas also put forward an innovative alternative to the traditional London 'black cab' taxi. It also sponsored a contest for inventors to build and race their own electric vehicles. The only stipulation was that the cars had to be powered by two Lucas car batteries. The contest was held at Donington Park race circuit, near Derby, on 2 September 1979, and the winner was 19-year-old William Yates, a television engineer, who finished first out of a field of fiftytwo entries. Mr Yates, from Cannock, Staffordshire, drove to victory – and £1,225 in prize money – lying flat on his stomach in a low-slung, box-like electric car nicknamed the 'flying coffin'. The vehicle average 20.81 mph (46.1 km/h) – a speed that seemed very much faster to Mr Yates with his nose a mere three inches from the circuit.