The talented Virgil Exner, heading up Chrysler design in the 1950s, was certainly a hard worker. The outflow of plans from his drawing board for exciting new cars appeared unstoppable, as did the capacity of Italian coachbuilder Ghia-his preferred contractor-to turn them into fully functioning prototypes.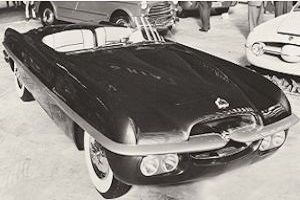 Dodge Firearrow 1953
YEAR REVEALED 1953
PLACE OF ORIGIN Detroit, Michigan, and Turin, Italy
HISTORICAL STATUS prototype
ENGINE V8-cylinder, 241ci (3,954cc)
MAXIMUM POWER 152bhp
LAYOUT front-mounted engine driving the rear wheels
BODYWORK two-door, two-seater roadster, four-seater coupé and four-seater convertible
TOP SPEED 143mph (230kph) (Firearrow III)
NUMBER BUILT four
The Firearrow was a sleek roadster created in 1953. Its impressively clean lines-with wheels tucked neatly inside a wide roadster body and a bullet-shaped ornament in the center of its radiator grille-were up-to-the-minute. It was stunning in bright red, with a polished metal belt-line and a handmade wooden steering wheel.
Presented under the Dodge brand, the first car was a full-size mock-up, but a similar working car in yellow, with its racy wire wheels, was a star turn at a 1954 "Harmony On Wheels" exhibition. This was rapidly followed by the Firearrow III coupé and the four-seater Firearrow and Firebomb convertibles, with black-and-white checkerboard upholstery.
The closed car was timed at 143mph (230kph), driven by leading female stunt pilot Betty Skelton. The five show cars were initially intended to grab headlines and to lift Dodge's staid image. But they led to a limited production run of 117 Firebomb replicas, privately financed by Dual Motors of Detroit, US, and sold as the Dual-Ghia. They were popular trophy assets among movie stars and politicians-in terms of glamour alone, Exner and Chrysler must have been delighted with the "Firearrow effect".