Here's a positive catamaran of a car. The Bisiluro had twin, cigar-shaped "hulls," with the driver seated in the right, and the engine, gearbox, and fuel tank shrouded in the left to balance the weight.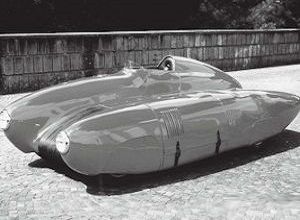 Damolnar Bisiluro 1955
YEAR REVEALED 1955
PLACE OF ORIGIN Turin, Italy
HISTORICAL STATUS prototype
ENGINE four-cylinder, 45ci (735cc)
MAXIMUM POWER 65bhp
LAYOUT side/mid-mounted engine driving the rear wheels
BODYWORK single-seater racer
TOP SPEED 133mph (214kph)
NUMBER BUILT one
Beneath the lower, central portion of the body was a radiator, heat exchanger, and two-stage aerodynamic brake. The Bisiluro was the brainchild of Carlo Mollino, an architect who loved cars and aircraft. It took shape in the workshops of Enrico Nardi, a Turin-based builder of prototypes and sports cars, in early 1955. Named the Bisiluro-Italian for double torpedo-the "Da-" part of the car's official "marque" alluded to Dr. Mario Damonte, the partner in the venture.
The whole point of this machine was to tackle the 1955 Le Mans 24-hour race in the 46ci (750cc) class, while gaining the maximum speed advantage from its ground-hugging shape. The power came from a Giannini four-cylinder, 45ci (735cc) unit producing 65bhp at a screaming 6,500rpm-inspired by the engine in Moto Guzzi's racing motorbikes.
The Bisiluro was incredibly fast, capable of 133mph (214kph), but on its fifth lap at Le Mans, disaster struck. A Jaguar overtook at such speed that the ensuing gust forced the car off the road, ending its race. Happily, the Bisiluro survived and today resides in Rome's Leonardo da Vinci Science Museum.