The US's Timemagazine called Brooks Stevens "The seer who made Milwaukee famous." In 61 years of industrial design, he had 550 clients and created thousands of pieces of work, including several cars.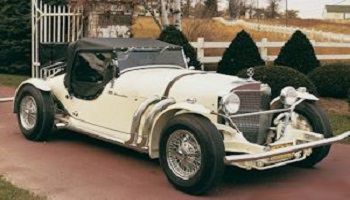 Excalibur SS 1963
YEAR REVEALED 1963
PLACE OF ORIGIN Milwaukee, Wisconsin
HISTORICAL STATUS production car
ENGINE V8-cylinder, 327ci (5,362cc)
MAXIMUM POWER 300bhp
LAYOUT front-mounted engine driving the rear wheels
BODYWORK door-less and then two-door, two-seater roadster and four-seater convertible
TOP SPEED 140mph (225kph)
NUMBER BUILT 359
In 1950, he single-handedly created the "recreational" off-road market with his design for the Jeep Jeepster, a sort of four-wheel drive sports car. His eclectic Excalibur J sports-racing car appeared in 1952, but in 1963, he hit the nascent nostalgia movement with the Excalibur SS show car, featuring a Studebaker Lark chassis and supercharged V8 engine.
It was the star attraction at the 1963 New York Auto Show, and Stevens was deluged with orders. He adapted the chassis to accept a Chevrolet Corvette engine, setting it back over 2ft (60cm) in the frame for authentic vintage proportions.
Flexible metal exhaust pipes were proudly carried along the sides, the radiator shell was aluminum, and the body panels were fiberglass. Stevens's two sons then offered the Excalibur SS to the public, adding Roadster and four-seater Phaeton editions. Although scorned by vintage enthusiasts, they were a hit with drivers who craved the attention of passers-by.