By 1963, Chrysler was on track to do what no other carmaker had ever attempted-to make a gas-turbine-engined car and put it into the hands of consumers.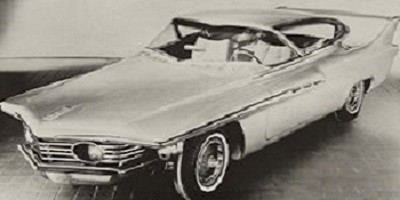 Chrysler Turboflite 1961
YEAR REVEALED 1961
PLACE OF ORIGIN Detroit, Michigan, and Turin, Italy
HISTORICAL STATUS prototype
ENGINE gas turbine
MAXIMUM POWER 140bhp
LAYOUT front-mounted engine driving the rear wheels
BODYWORK two-door/single-canopy, four-seater coupé
TOP SPEED unknown
NUMBER BUILT one
It first installed a gas-turbine engine into a Plymouth in 1954, and two years later felt confident enough to try a "real life" voyage from New York to Los Angeles, driven by Chrysler's research chief George Huebner. Some 50 further prototypes, and engines for laboratory-testing, were built until company bosses sanctioned the Turboflite.
The Chrysler Turboflite was presented as a showcase for the final CR2A engine-a unit said to weigh half as much as a conventional Chrysler V8, with only 60 moving parts instead of 300. It had been extensively road-tested in a Dodge truck in 1960. The Turboflite's super-aggressive styling was by Chrysler's Maury Baldwin, with an enormous airfoil at the back sporting a pivoting lateral blade that was supposed to act as an airbrake to slow the car down.
When either of the two doors were opened, the cockpit canopy automatically raised, using a pair of struts, to admit driver and passengers. A touch of the hot-rod was provided by the exposed front wheels and chrome frontal treatment. Luxuriously plump seating and electro-luminescent mood lighting created an inviting aura. The Turboflite-which probably never ran under its own power-was built to Chrysler's precise design in Italy by revered coachbuilder Ghia, as a prelude to its manufacture of the Chrysler Turbine bodies.